Meet Ben Grunau, New Research Scientist Associate III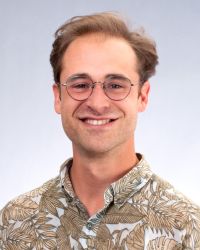 Ben Grunau earned his B.S. in geosciences from Texas Tech University in 2017 and later completed his M.S. in hydrology from Texas A&M University in 2021. During his time at A&M, he was part of the High Alpine and Arctic Research Program, where he conducted research on alpine rock glaciers in Colorado using remotely-sensed lidar data, field observations, and semiautomated image classification to estimate water inventories. As an undergraduate, Ben worked intermittently at the Bureau's Austin Core Research Center and later at the UT Institute for Geophysics' Gulf Basin and Depositional Synthesis project as an undergraduate research assistant. It was during these gracious appointments that the seeds of Ben's interest in research were sown.
At home Ben splits his free time between hiking, running, amateur archaeology, food and beverage fermentation, and tending to three voracious guinea pigs. Ben has long admired the quality and diversity of the research conducted at the Bureau, and he is elated to be given the opportunity to contribute toward furthered understanding of our science.