2023 Annual Meeting
April 13-14, 2023
Mission
Since 2009, the MSRL mission and workflow has improved our knowledge of reservoir characterization and the stratigraphic framework of mudrock systems by integrating core measurements, fluid saturations, fluid flow modeling, and petrophysics. Multidisciplinary in nature, MSRL studies are applied to understand geological heterogeneities in the subsurface across oil and gas reservoirs by an integrated approach of geology, geochemistry, petrophysics and well logging. MSRL research is closely aligned with exploration, drilling and completions, and understanding key processes that control reservoir quality and fluid properties.
MSRL Workflow
The MSRL workflow is designed to generate high quality data, validate externally derived datasets, and understand key processes that control reservoir quality. MSRL researchers maintain geochemistry, petrophysics, and scanning electron microscopy laboratories to support our research projects.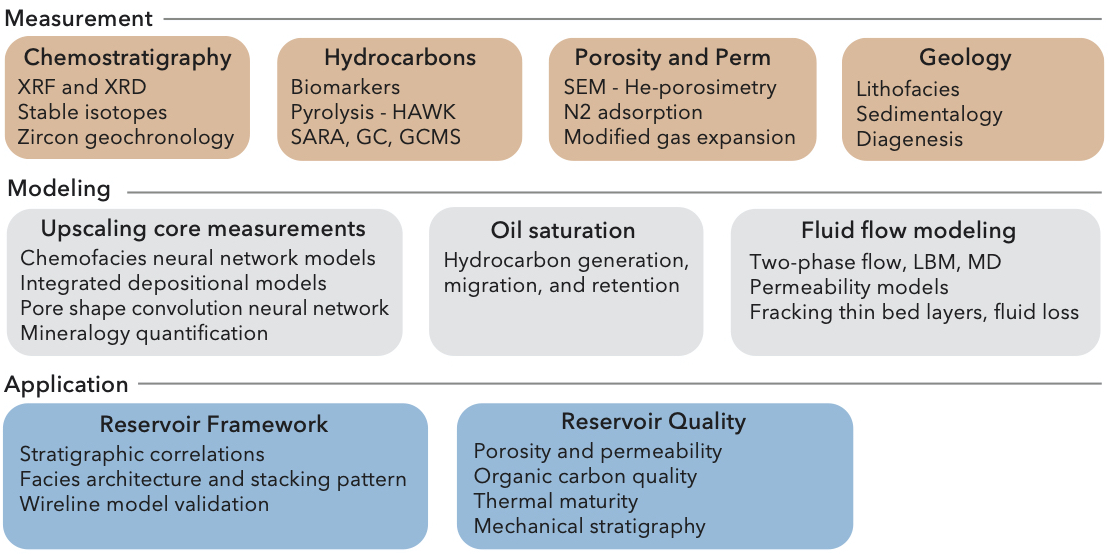 Research Studies from the Pore to the Basin Scale
MSRL research is multidisciplinary and integrates data generated from the MSRL core characterization laboratories to build core-validated geological models. We are focused on understanding key processes that control fluid flow and porosity in mudrock systems, which requires viewing rocks using scanning electron microscopy. Pore-scale studies are integrated with basin scale studies through geological characterizations at the core- and wireline-scale.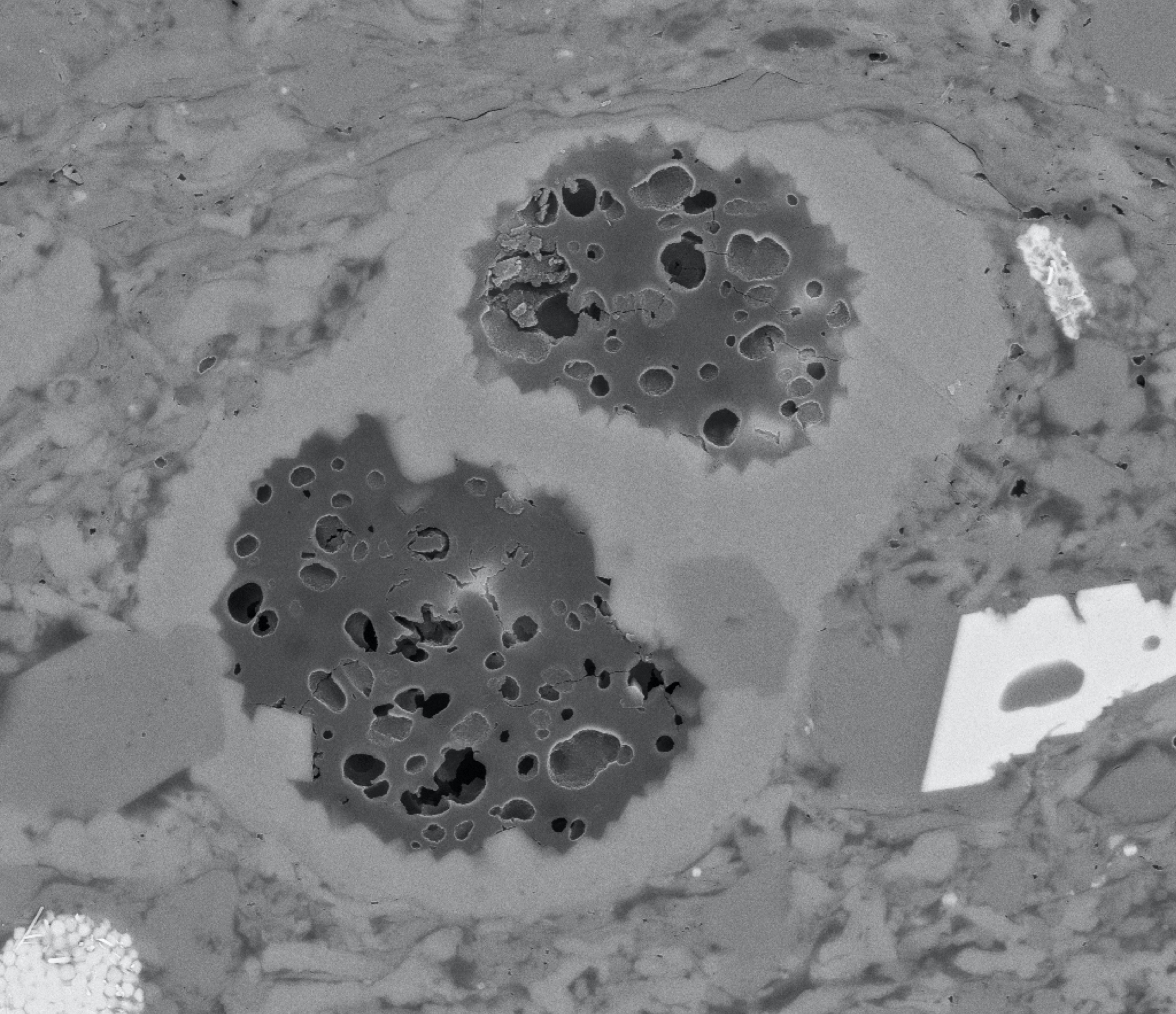 Scanning electron microscopy is used to visualize nano- to micrometer sized pores and their distributions, to determine clay mineralogy and quartz origins, and understand diagenetic histories.
Porosity and permeability are measured using He-porosimetry, gas-expansion, and pressure-decay.
Gas and oil geochemistry, organic matter type and thermal maturity, and biomarkers are measured to understand the fundamental controls to oil saturation and oil quality.
Cores are scanned in our X-ray fluorescence laboratory to develop formation-specific supervised chemofacies training datasets for machine learning
Core and facies characterization
Wolfcamp, Bone Spring, Eagle Ford, Vaca Muerta, Barnett, Marcellus, Bakken, Pearsall, Haynesville, Austin Chalk, Woodford, and Yanchang
Cores are described visually by MSRL researchers for lithofacies and sedimentology to develop depositional models for regions of interest.
Core to wireline integration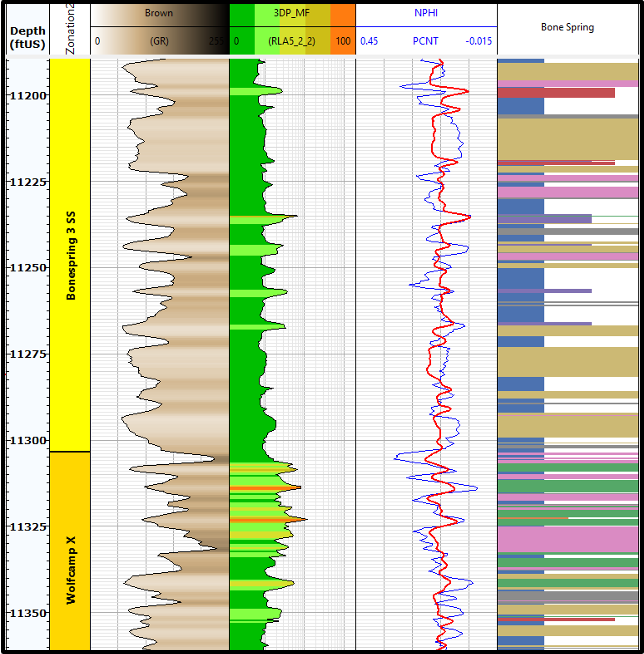 Bone Spring Formation, Ward County, Texas. High resolution X-ray fluorescence core scanning chemofacies integrated with wireline log response curves.
Machine learning is used to apply facies characterizations across formations
Wireline log response curves are integrated with core characterizations to inform reservoir models
Rock and fluid attribute data from core plug measurements are integrated into facies models for upscaling
Eagle Ford Shale Oil Geochemistry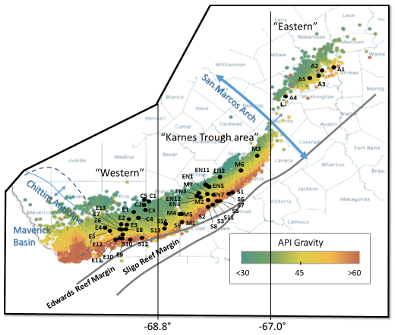 Oil physical and chemical properties
Time lapse oil geochemistry
Thermal maturity, organo-lithofacies and basin modeling
Basin wide oil geochemical characterization of Eagle Ford and Austin Chalk produced fluids to determine the key factors to oil quality.
Petrophysics and fluid flow
Dynamic and static characterizations of fluid flow and the integration of geological controls are accomplished through innovative imaging techniques. Petrophysical measurements (porosity, permeability, relative permeability) are combined with imaging to provide a unique approach to understand fluid flow in shale.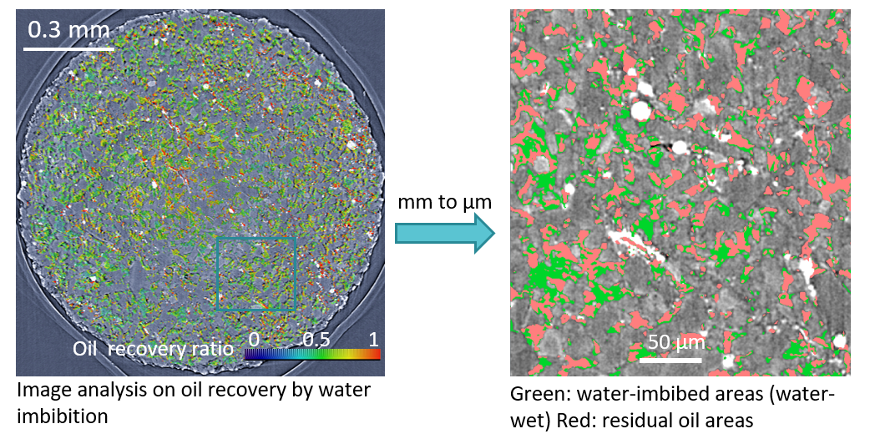 MSRL Database
The MSRL maintains a database of core-based and wireline log measurements from major mudrock plays across the United States, China, and Argentina. We apply these data to our multi-disciplinary approach to better understand reservoir characteristics that affect the reservoir quality of mudrock petroleum systems.
The MSRL database is organized in ArcGIS so that available core and core data can be identified and used.
Machine learning datasets can be explored using CorePy, which is a series of Machine learning python codes developed by MSRL researchers to integrate multivariate core datasets.
MSRL members have access to the full dataset measured for the MSRL consortium and presentations, video recordings, publications that we have made for a decade via the consortium.
Interested in joining?
Please let us know if you would like for us to call or email you with further information. To learn more, please contact:
Toti Larson, Principal Investigator
toti.larson@beg.utexas.edu
512-838-3230