Meet Dr. Ali Cherif, New Postdoctoral Fellow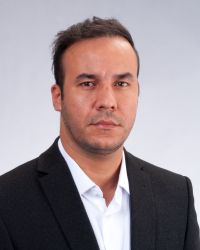 Ali Cherif is a dedicated researcher in the field of energy engineering and science, specializing in the development and optimization of energy processes and technologies for sustainability and security. He has a Ph.D. in thermo-fluids and an M.S. in mechanical engineering from the University of Science and Technology Houari Boumediene (USTHB) in Algeria. Ali focuses on the fields of energy conversion, storage, and supply. He conducts research on enabling low-cost and greener hydrogen generation, management, and large-scale transportation as well as carbon capture and utilization, among other research topics. He has expertise in processes and catalytic reaction modeling, optimization and thermal management, and energy, techno-economic, and environmental analysis.
Ali has participated in collaborative projects including computational fluid dynamics (CFD) modeling of ammonia cracking, hydrolysis and metanalysis reactions via nanocatalysts, synthesis of hydrogen carriers, optimization of lithium batteries, and thermopower wave fuel cells. He has extensively collaborated on international industrial and academic projects. In his free time, Ali enjoys playing soccer as well as other outdoor activities. He is a fan of Arsenal F.C.