Meet Dr. Zhicheng "William" Wang, New Postdoctoral Fellow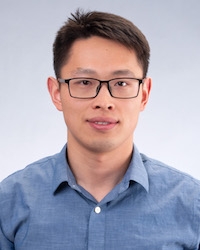 Zhicheng "William" Wang graduated from The Pennsylvania State University in the summer of 2022 with a Ph.D. in petroleum and natural gas engineering under the advisement of Dr. Luis Ayala. In 2017, he received a B.S. in petroleum engineering from China University of Petroleum-Beijing. His Ph.D. dissertation focused on pore-scale modeling of multiphase flow in porous media. During his Ph.D., he also worked on several unconventional reservoirs and natural gas reservoir modeling, simulation, and management projects. He started his career as a data scientist after graduation.
He is thrilled to join the Bureau of Economic Geology, bringing knowledge and passion to work with various talented research groups on carbon capture and storage topics and other energy, economics, and environmental research. During his spare time, he enjoys watching and playing sports, including but not limited to soccer, tennis, and swimming. He also likes traveling and exploring different cultures.