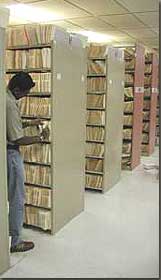 The Bureau of Economic Geology's Geophysical Log Facility (GLF) was established subsequent to legislation passed by the 1983-84 Texas State Legislature in which all operators of oil, gas or geothermal wells were required to provide the Railroad Commission of Texas with at least one copy of a well log for each new, deepened, or plugged well. This requirement became effective in 1985, and the Bureau's GLF has been the caretaker of the Texas Railroad Commission's logs since that time.
An estimated 1.5 million logs are archived at the GLF, and include the RRC collection, donated logs from industry, and logs from Bureau research projects. Other datasets available at the GLF include Well Records, Driller's Logs, Strip Logs, Mud Logs, Core Analysis, and Scout Tickets from thousands of Texas wells. Hard-to-find Texas well data is available in the GLF collection thanks to generous donations from industry, and provide a valuable source of information for the general public. Not all the data have been cataloged, but they are available to the public by visiting the Bureau of Economic Geology.
Logs are available as electronic format, as Tiff images, and as paper copies. Paper copies of logs are provided on continuous, prefolded paper, and cost $5.00 per log, plus $.75 per linear foot of paper, and a postage and handling fee. Scale (1", 2", 5"…etc.) can be specified on any purchase.
The Bureau provides Raster images in a Tiff format file of logs at a cost of $5.00 per log. Only the Raster images of well logs are currently available. A scanning project of the log collection is ongoing.
Logs cannot be downloaded directly from the Index posted on the website. Once an order is processed, an e-mail link will be sent to the UT Drop Box cloud storage site from which images can be downloaded.
An invoice will be sent for all orders; cash, checks, or credit cards are accepted. Copies are sent Fourth Class Mail. First Class or FedEx Overnight service is available at additional cost.

Lucy Phlegar is the GLF Administrative Associate. To request logs, Lucy by phone at 512-475-9219, fax to 512-471-0140, or e-mail the request to: lucy.phlegar@beg.utexas.edu Email is preferred.
The GLF is located on the first floor of Bureau headquaters in Austin
and is open by appointment only. Click here for procedures. [Maps and directions]
The CONTINUUM Geologic Database is a searchable database for a large number of well logs and core holdings. Some Austin and Midland data are not currently included in CONTINUUM.
CONTINUUM is continually updated. If your search for data does not provide what you need, please contact Nathan Ivicic via e-mail or telephone (512-475-9561).