The following should be completed about 2 days before a scheduled field trip. You need a couple of days to remedy any problems you might discover.
Check the weather forecast.
Check the tides, and try to time your beach surveys to occur at low tide if possible. (You should actually do this when first scheduling the field trip.)
Check to make sure you have enough copies of field forms. You should have several extra copies.
Ensure that all batteries are charged. The GPS receiver and camera both require batteries to operate.
Check all other equipment and place in equipment bags and place in staging area until time for the trip. Use equipment checklists below.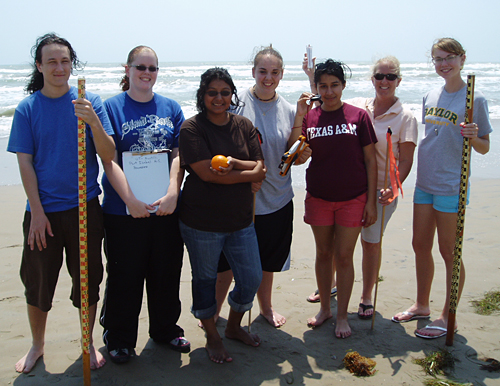 EMERY BEACH-PROFILE EQUIPMENT LIST
Red and black Emery rods
30-meter tape measure
Sediment sample jars (three per profile plus one extra)
Sighting compass
Hand level
Five long flags
Clipboard
Field book
Data forms
Permanent markers (2)
Hand lens (3) - optional
Pencils (2)
SHORELINE AND PROCESSES EQUIPMENT LIST
GPS receiver with charged batteries
30-meter tape measure
50-meter tape measure
Sighting compass
Wind gauge (2)
Digital camera
Small metal survey flags (4)
Clipboards (2)
Data forms
Permanent markers (2)
Pencils (2)
Stopwatch (2)
Three floats per profile (oranges)