The STARR Program
Texas has produced more oil and natural gas than any other state and remains the largest daily producer, with 3.0 MMbbl/d (million barrels per day) of oil and condensate and 21.8 Bcf/d (billion cubic feet per day) of gas in 2016, according to the Railroad Commission of Texas. No other state, or other region worldwide, has been as heavily drilled for oil and natural gas as Texas.
The BEG currently receives funds from the State to conduct research that assists oil and gas operators in adding new or increasing existing production in Texas. The STARR program since its inception in 1996 has been credited with, by the comptroller's office, increasing biannual severance-tax and royalty income for Texas by $516 million, or 13 times the cost of the program.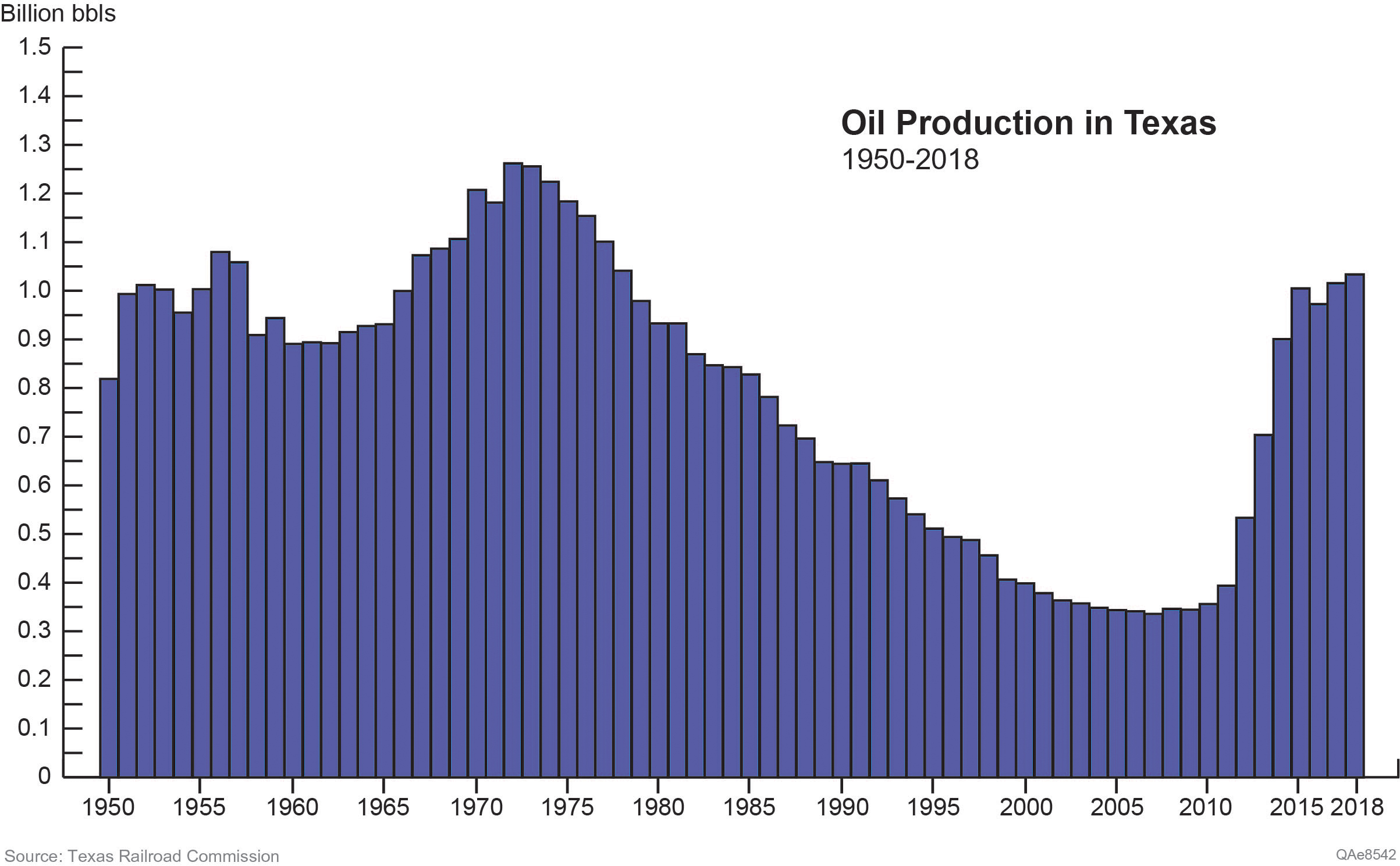 Oil Production in Texas from 1950. Production from conventional reservoirs peaked in 1973. From this peak level production steadily decreased until about 2000 when the rate of decease leveled out as unconventional production became significant. By 2011 shale oil production from fracing the Eagle Ford Formation in South Texas and the Wolfcamp and Spraberry Formations in the Permian Basin has resulted in a dramatic increase in production. Geologic studies by BEG targeted in both the Eagle Ford Formation and Permian Basin Plays have played an instrumental role in enabling the success of both.
Regional Oil and gas Studies
The STARR program has funded a series of key, regional projects that have aided in the development of the shale gas and shale oil revolution in Texas. The first of these in the Barnett Shale, the first shale gas play, was conducted between 2006 and 2010. A study of the Eagle Ford Shale, the first shale oil play was conducted between 2010 and 2014. Currently the STARR program is co-funding (with 10 companies) the BEG's TORA (Tight Oil Resource Assessment) project, dedicated to evaluating the long term oil and gas potential of unconventional plays in the Permian Basin. These studies shave played a fundamental role in the revitalization of oil production in Texas, driven by these unconventional plays. The results of STARR regional studies are used by oil companies as the basic framework for their exploration efforts. By increasing geologic understanding of new unconventional plays STARR has helped to facilitate the ongoing revolution in oil production in Texas.
Technology Transfer
Through reports, publications, conference presentations and workshops focused on specific oil/gas plays STARR has transferred knowledge and insights from its research to both major, mid-sized and smaller oil companies as well as small Texas independent operators.
Those companies attending STARR Workshops since 2009 have included:
| | | |
| --- | --- | --- |
| AEATX | Emerald Bay Exploration | Pioneer Resources |
| Affirmed Resources | Endeavor Natural Gas LP | Prolifico Exploration |
| Anadarko Petroleum | Excellong | Renda Energy |
| Antioch Energy LLC | Five Star Energy | Riley Exploration |
| Apache Corporation | Formosa Petrochemical | Risco La Sara Operations |
| Arête Resources | Fourhorses LLC | Royal Exploration |
| Atlas Resource Partners | Gulf Energy Exploration | Sabco Oil and Gas |
| BASA Resources | Gunn Oil Co. | Sabco Operating Co. |
| Bass Enterprises | Haimo America Inc. | Santos USA Corp |
| BBX Operating | Hallwood Energy | SCAL, Inc. |
| Boardman Industries | Hanson Corporation | Shell Oil and Mobil Oil (now ExxonMobil) |
| Boss Exploration | Harmonia Inc. | St. Mary's Land and Exploration |
| BP | Hilcorp | Stalker Energy |
| Brigham Exploration Company | Huber | Starcreek Energy |
| Burnett Oil | IBC Petroleum | Surge Energy |
| Cabot Oil and Gas | Imagine Resources LLC | T-C Oil Company |
| Chesapeake Energy | Jones Energy | Teal Exploration |
| Cinco | Killam Oil | TECCorp International |
| CML Exploration | Kinder Morgan | Tecolote, Inc. |
| Cobra Oil and Gas | Latigo Producing | Texas Crude |
| Common Resources | MPG Petroleum | Tracker Resources |
| Conoco, Incorporated | Neumin Production Company | TravCon Geology |
| Copeland Resources | Newfield Exploration Company | Tri-Star Petroleum Company |
| Cross Timbers Oil Co. | Novus | Trinity Brothers |
| Danmark Energy | Oak Spring Energy | Union Pacific Resources |
| Daylight Petroleum | Panaco, Incorporated | US Enercorp |
| De la Terra Exploration | Pantheon Oil and Gas | Valence |
| Devon | Patriot Operating Co. | Vision Resources |
| Devon Energy | Petrohawk | Vista Resources |
| Devon Resources | Petrotex | Whiting Resources |
| Durango Resources | Pi Energy | Winchester Energy Limited |
| Dyersdale Energy | Pioneer Natural Resources | Zone Energy |
Assistance to Operators
A variety of oil and gas companies request reservoir characterization and exploration assistance from STARR. STARR geologists and engineers provide assistance and advice to companies on: optimal development strategies; reservoir heterogeneity and their effects on oil and gas recovery; and evaluation of exploration targets. Over the last 20 years, the STARR program has completed or is currently working on more than 60 field (reservoir characterization) and more than 15 regional studies with over 50 Texas oil and gas operators. In the the 2014-2016 biennium, the STARR program conducted more than 20 field studies and eight regional studies. Key projects included studied of the prolific Wolfcamp and Spraberry Formations that have played a major role in dramatic increase in the oil production in the Permian Basin over the last few years. Incremental severance-tax revenue (as credited by a formula created by the Texas Comptrollers Staff) in the Permian Basin from STARR projects during the 2014-2016 biennium amounted to over $17 million from increased oil production and approximately $4 million in additional gas production.