Storm Susceptibility and Surge Inundation
Tropical cyclones (hurricanes and tropical storms) are frequent visitors to the Texas coast, bringing strong winds, high water, and large waves to bear on the coastal environment. Tropical cyclones include tropical storms (sustained winds between 62 and 118 km/hr) and hurricanes that are classified following the Saffir/Simpson system (Simpson and Riehl, 1981). Category 1 hurricanes have sustained winds of 119 to 143 km/hr; Category 2: 154 to 177 km/hr; Category 3: 178 to 209 km/hr; Category 4: 210 to 249 km/hr; and Category 5: greater than 249 km/hr. In general, minimum central pressures decrease as the categories increase, as does pressure- and wind-driven storm surge. Two critical parameters that influence the erosion potential of a tropical cyclone are surge height and surge duration: the longer sea level is elevated above normal during storm passage, the greater the potential for erosion along the shoreline and redistribution of eroded sediment. Historical records indicate that 65 hurricanes and 60 tropical storms have struck the Texas coast between 1850 and 2017, an average of four hurricanes and four tropical storms per decade.
At Powderhorn Ranch, principal hurricane hazards include wind damage, wave erosion along the Matagorda Bay and Powderhorn Lake shorelines, and inundation caused by storm surge. Two great hurricanes illustrate the inundation potential of these storms. Hurricane Carla, classified as a Category 4 hurricane with sustained winds of more than 230 km/hr, made landfall near Port O'Connor in September 1961. Maximum still-water elevations were reported to be 4.5 m at Port O'Connor east of Powderhorn Ranch and 6.7 m at Port Lavaca west of Powderhorn Ranch (U.S. Army Corps of Engineers, 1962). Assuming a surge elevation of about 5.2 m at Powderhorn Ranch, subtracting ground-surface elevations determined from the 2016 airborne lidar survey from the Carla surge elevation yields an inundation map that suggests that nearly all of Powderhorn Ranch was inundated to water depths ranging from near 0 m to about 5 m along the low-lying shore, swale, and drainage areas (fig. H1).

Hurricane Beulah, another major hurricane that made landfall near the mouth of the Rio Grande in September 1967, produced surge heights in Matagorda Bay reported at 1.6 m at Port O'Connor and 2.1 m near Port Lavaca (U.S. Army Corps of Engineers, 1968). At Powderhorn Ranch, subtracting lidar-derived ground elevations from an estimated surge height of 1.8 m yields a map showing inundation areas along Powderhorn Lake and within the swales and drainages along Matagorda Bay (fig. H2). Most of Powderhorn Ranch remained above surge flooding.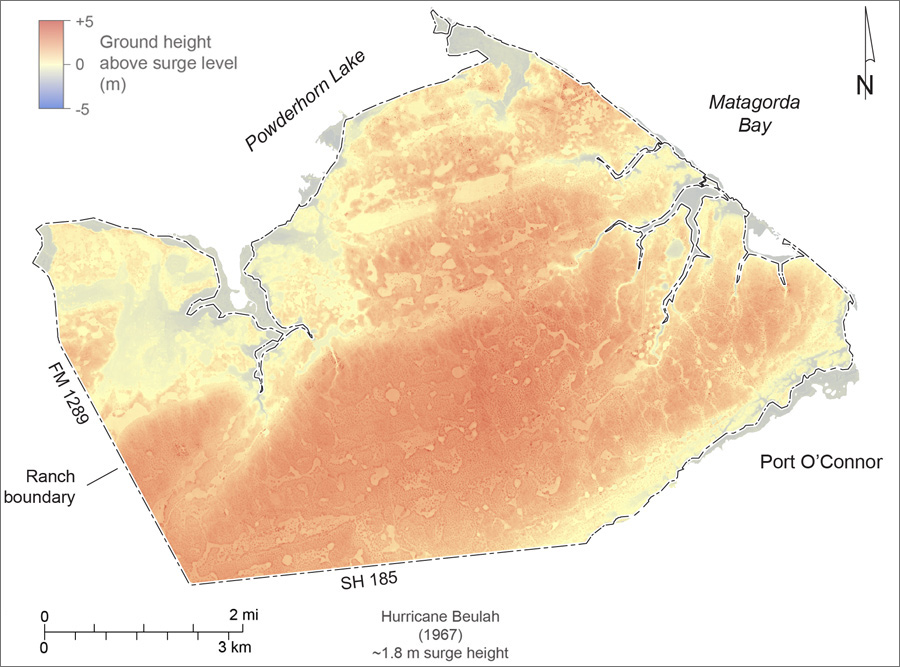 Hurricane Harvey, a Category 4 storm that made landfall near Rockport, Texas, in August 2017, produced surge heights of about 1 m at Port O'Connor and 2.2 m at Port Lavaca. Debris lines recording inundation extent were mapped along Matagorda Bay and Powderhorn Lake during field investigations in January 2018 (figs. H3 and H4). Significant washover deposits composed of sand, shell, and storm debris were common along the Matagorda Bay shoreline (fig. H5). Harvey-related erosion occurred along the Matagorda Bay shoreline, including sandy bluff retreat above riprap near the ranch house (fig. H6).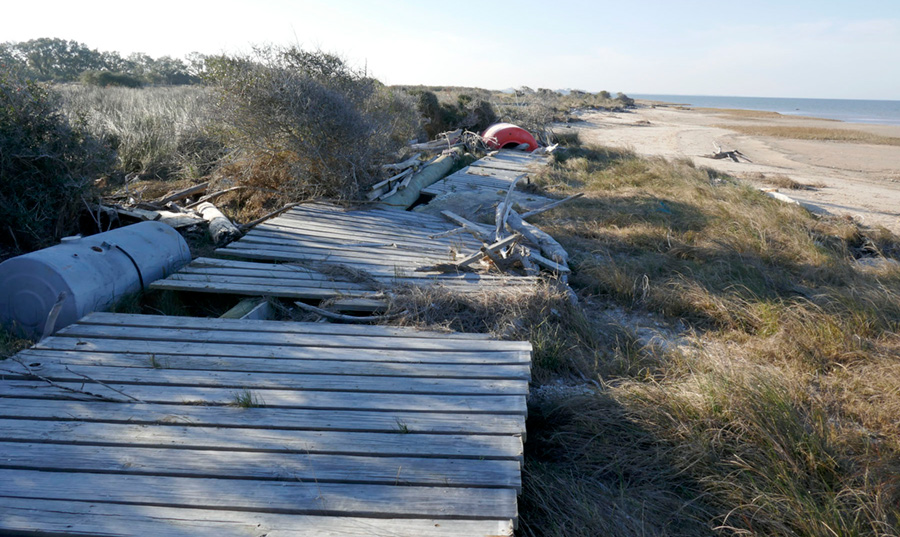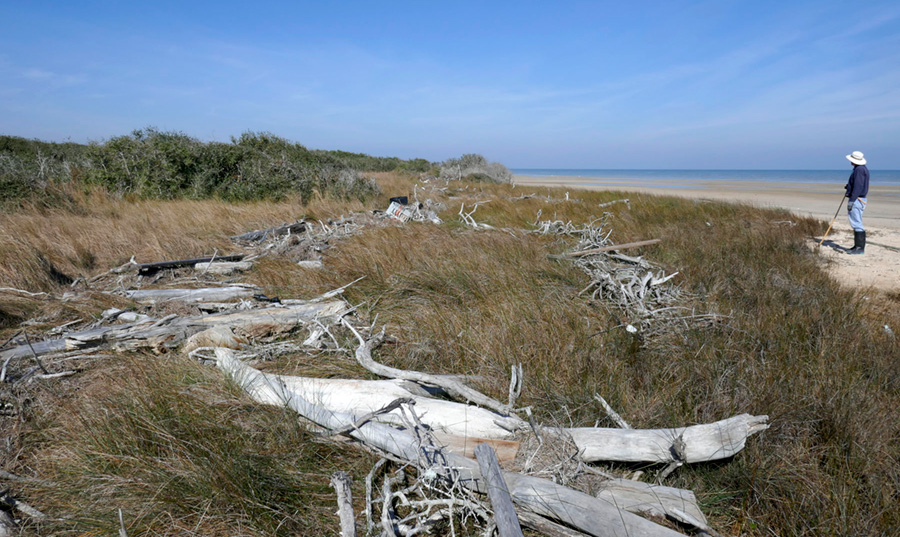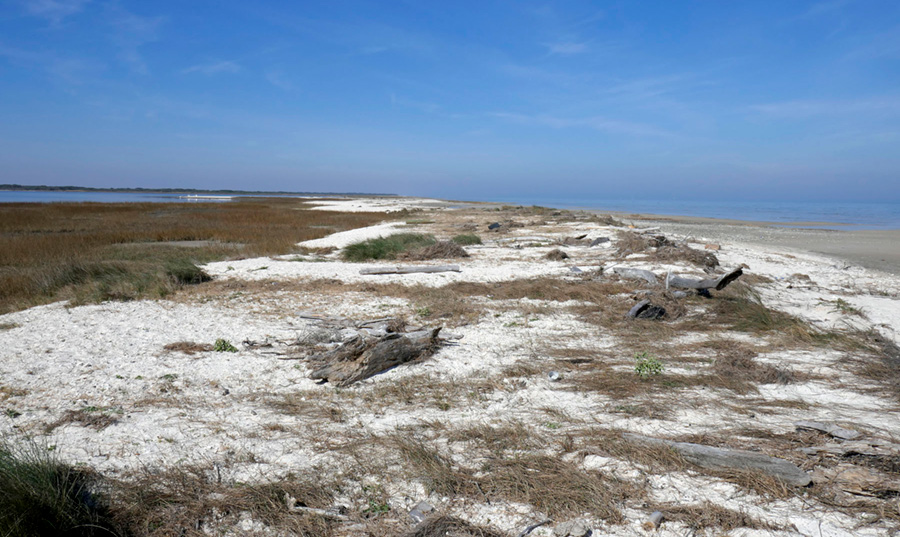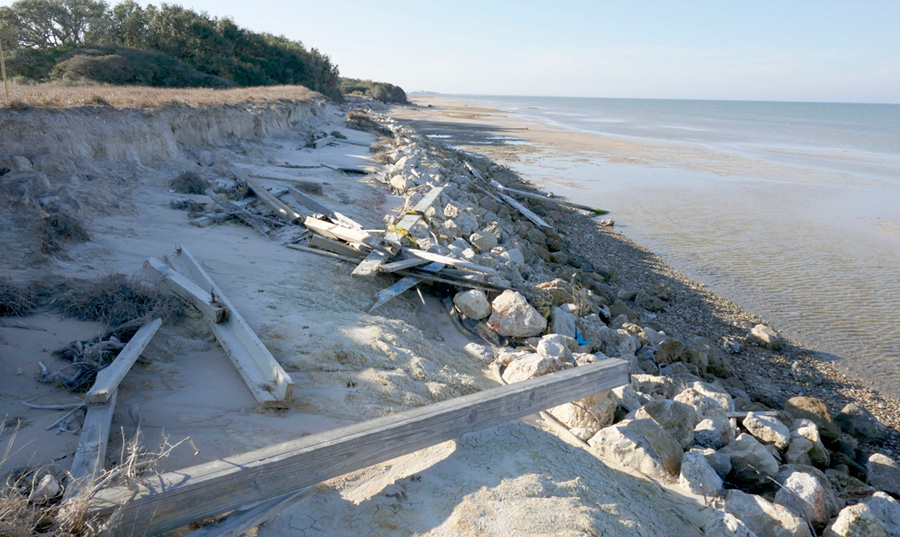 ---
References
Simpson, R. H., and Riehl, H., 1981, The hurricane and its impact: Baton Rouge, Louisiana State University Press, 398 p.
U. S. Army Corps of Engineers, 1962, Report on Hurricane Carla: 9-12 September 1961: Galveston District, U.S. Army Corps of Engineers, 29 p.
U. S. Army Corps of Engineers, 1968, Report on Hurricane "Beulah": 8-21 September 1967: Galveston District, U.S. Army Corps of Engineers, 26 p.