About the Program
We study how aquatic and terrestrial habitats, some of which may be protected by State and/or Federal programs, intersect with economically important water, energy, and land resources. By building multidisciplinary teams, Bureau researchers and collaborators integrate hydrology, geology, energy resources, landscape ecology, biology, and economics to provide solutions to stakeholders, including State and Federal agencies, non-governmental organizations, and industry. Our goals are to conduct unbiased, scientifically rigorous research that facilitates species conservation, balances continued economic growth, and provides stakeholders with the information and assistance they need to develop strategies to prepare for a possible listing.
We study water to…
Evaluate how environmental flows, needed to maintain aquatic habitat following potential federal listings of species, may affect water resources using water availability models (WAMs).
Evaluate potential economic impacts resulting from changes in water supply, Endangered Species Act (ESA) Section 7 consultation, and water quality requirements.
Understand groundwater-surface water interactions and relationships among groundwater withdrawals, spring discharge, and aquatic habitat by monitoring groundwater levels, spring water temperature and conductivity, stream temperature and discharge rate, and meteorological parameters — and relate results to groundwater and habitat models.
Assess hydrologic alterations to aquatic habitats and monitor hydrologic conditions using high-flow and low-flow metrics from long-term USGS stream gauge data.
We study landscapes to…
Map and prioritize potentially suitable habitat within species historic range, using species distribution models and expertly-ranked vegetation classes.
Quantify anthropogenic activities contributing to landscape alteration using classification of remotely sensed imagery and publicly available land cover databases.
Evaluate intensity of landscape alteration and fragmentation using statistical techniques to identify clusters of altered and unaltered landscapes.
Forecast how future anthropogenic activities may alter landscapes and optimize the placement of surface infrastructure to minimize its impacts.
---
Ongoing and recently completed studies
Ongoing projects provide high-quality data to be used by stakeholders to inform management and conservation of several priority species.

Water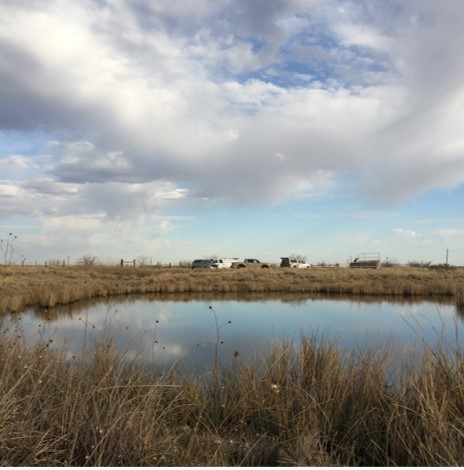 Hydrogeologic evaluation of environmental risk to groundwater-dependent spring ecosystems in the Permian Basin of Texas
Unsustainable groundwater development for agriculture has dried or reduced flow to springs previously hosting species of conservation interest in the Permian Basin of Trans-Pecos Texas. In the past 10 years, unconventional oil and gas development in the region using directional drilling and hydraulic fracturing has expanded rapidly. Stimulation of each well may require millions of gallons, often sourced from groundwater. Of concern are potential impacts to springs and streams connected to aquifers being pumped for hydraulic fracturing water supplies. Thus, environmental risks to springs from economically important energy development operations is being assessed by: (1) Collecting surface water, groundwater, and spring water samples to evaluate chemical evolution to identity local and regional flow paths, (2) Measuring groundwater levels to refine groundwater flow system using existing and new-drill monitoring wells, and (3) Evaluating subsurface stratigraphy and faults which may influence groundwater flow. Results of these analyses are integrated into a vulnerability analysis to understand what parts of the Trans-Pecos region may be sensitive to groundwater contamination or over-use. Practical scientific findings of this project are being conveyed to private industry, private landowners, federal and state agencies, and NGOs to assure that economically-important oil and gas development may continue while also protecting biologically important groundwater-fed habitats. [Download PDF]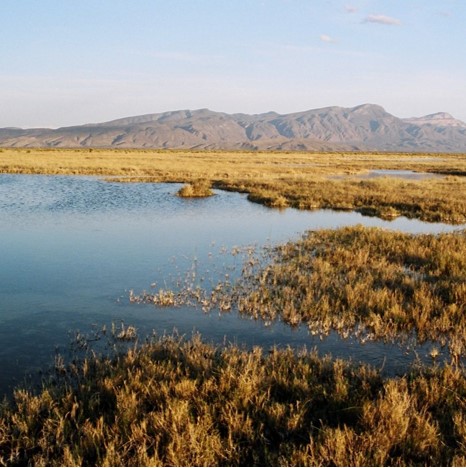 Sustainable Groundwater Management and Conservation of Aquatic Habitats in the U.S.-Mexico Border Region
While hydraulic fracturing to extract U.S. unconventional oil and gas resources is well-developed, only a handful of similar wells have been drilled across the border in Mexico. Prior to large-scale unconventional energy development begins in Mexico, a forecast of water use is needed so that potential impacts to groundwater, surface water, and ecological resources may be anticipated and mitigated. We developed a screening tool to assess first-order water impacts in the undeveloped Eagle Ford play of northeast Mexico by coupling surface water and groundwater stress indicators to map relative water stress in proposed lease blocks. We found that given limited surface water resources, groundwater will be the most likely source of future hydraulic fracturing operations. However, impacts to existing agricultural, municipal, and industrial groundwater users and linked groundwater-dependent ecosystems may be minimized by using brackish groundwater and recycling produced water, as is becoming a common water-use strategy in the semi-arid Permian Basin of Texas and New Mexico.
[Download PDF]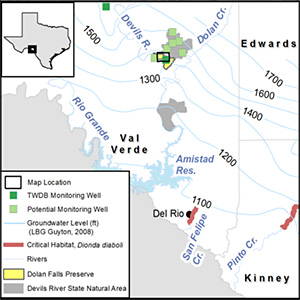 Monitoring the effects of groundwater levels on spring and stream discharge, stream temperature, and habitat for Dionda diaboli in the Devils River
The federally threatened Devils River Minnow (Dionda diaboli) was historically found in spring-fed Rio Grande tributaries. However, surface water and groundwater development since the 1950s, human alteration of stream habitat, and other factors substantially reduced D. diaboli range. Proposed unregulated groundwater development in the Devils River watershed threatens to reduce streamflow and aquatic habitats for ~50% of the current known range. Thus, this ongoing study is increasing our understanding of the relationship between groundwater withdrawals, spring discharge, and habitat quality and availability of D. diaboli in the Devils River by collecting groundwater, spring, streamflow, and climatic data to implement key parts of the Devils River Minnow Recovery Plan. [Download PDF] [Download PDF]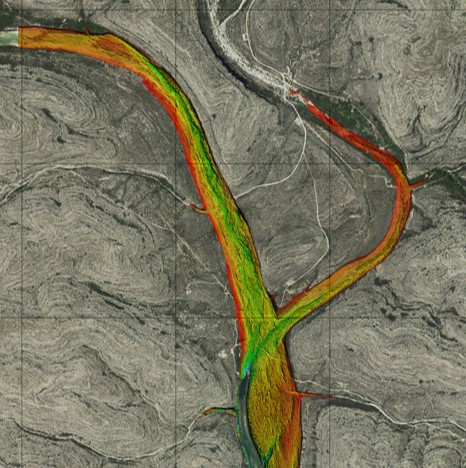 A Novel Multi-Sensor Approach for Improved Geodetic Mapping of Fluvial Bathymetry in a Semi-Arid Karst Stream, Devils River, Texas
The federally threatened Devils River Minnow (Dionda diaboli) was historically found in spring-fed Rio Grande tributaries in Texas and Coahuila, Mexico. However, surface water and groundwater development, anthropogenic stream habitat alteration, and other factors substantially reduced D. diaboli range. The Texas Hornshell mussel (Popenaias popeii) is also found in the Devils River and is federally listed as endanger because of its limited modern range. Given the threats to aquatic habitats from pumping of groundwater, this study fills an important gap in D. diaboli and P. popeii research by (1) generating a high-resolution bathymetric and topographic survey of >70 km (173 km2) of the Devils River using airborne lidar (light detection and ranging) bathymetry and high-resolution photography as well as boat-mounted sonar and ground-penetrating radar (GPR), (2) monitoring substrate water temperature and depth in riffles where P. popeii has been recently found in the Devils River, (3) continuing ongoing monitoring of spring and stream discharge and groundwater, and (4) conveying results to nonprofit and state stakeholders, who plan to use this bathymetric mapping to develop a flow model to assess aquatic habitat availability and quality under a variety of spring discharge and resulting instream flow conditions.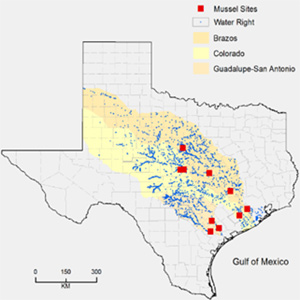 Potential Economic Impacts of Environmental Flows Following a Possible Listing of Endangered Texas Freshwater Mussels
The U.S. Fish & Wildlife Service will soon decide if several species of Texas freshwater unionid mussels warrant protection under ESA with potential economic impacts to stakeholders resulting from changes in water availability. This study (1) characterized the hydrology of Central Texas streams where five species of freshwater unionid mussels are found; (2) estimated hypothetical environmental flow requirements to maintain mussel habitats; (3) evaluated where potential water supply reductions caused by environmental flows may occur; and (4) assessed potential economic impacts caused by reductions in water supply in order to allow the state to plan for and mitigate potential impacts. This study was in collaboration with UC Berkeley and California Polytechnic University. [Download PDF]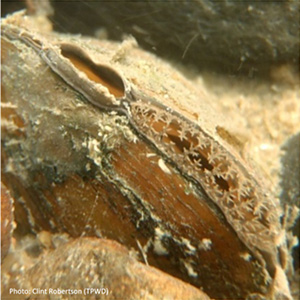 Evaluation of Potential Economic Impacts Resulting from Flows for Freshwater Mussels: An Update Using Best Available Science and Modeling
We are updating our previous study to understand how a federal listing of several species of freshwater unionid mussels in the Trinity, Brazos, Colorado, and Guadalupe-San Antonio River basins may affect Texas stakeholders by: (1) assessing how water availability may change in four river basins if Texas Commission on Environmental Quality (TCEQ) adopted environmental flow standards will be used as flows that may be needed to maintain mussel habitat (to the extent that such flows occur naturally), should they be listed (2) estimating economic impacts of any reductions in water availability to major water users; (3) evaluating potential costs or delays of water supply projects for ESA Section 7 consultation; (4) understanding what actions may be required to manage water quality, and (5) conveying results to stakeholders. This study is in collaboration with California Polytechnic University, Black & Veatch, and HDR.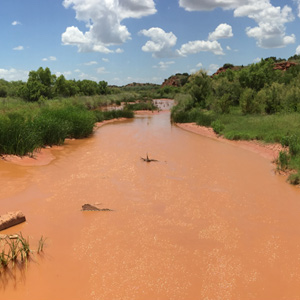 Surface Water-Groundwater Interactions in the Upper Brazos River Basin of Texas and Quantitative Relationship to Smalleye and Sharpnose Shiner Reproductive Success
Two endangered cyprinids, Sharpnose Shiner Notropis oxyrhynchus and Smalleye Shiner N. buccula, were historically found throughout the Brazos River basin. However, their range has been greatly reduced due to groundwater withdrawals, river fragmentation by physical barriers, and alteration of natural streamflow regimes by reservoirs. The wide, shallow stream habitat the shiners utilize are now limited to the Upper Brazos River basin upstream of Possum Kingdom Reservoir. This study will increase our understanding of how groundwater and surface water resource development has quantitatively affected streamflows needed for reproductive success by (1) evaluating groundwater-surface water interactions to understand the extent to which Seymour aquifer pumping may affect streamflows that would have otherwise flowed to streams using a combination of historic hydrologic data and collection of new field data; and (2) assessing how reservoir operation has affected the natural flow regime, focusing on minimum flows, high flow pulses, and changes in how alluvial aquifers support stream baseflow using long-term streamflow records. The results of this study can inform Recovery Plan development, particularly research and management actions to maintain spawning flows. [Download PDF]

Monitoring Hydrologic Effects of Saltcedar Control Efforts in the Upper Brazos River Basin, Texas
In the Brazos River between Possum Kingdom Reservoir and the confluence of the Double Mountain Fork, woody phreatophyte vegetation inventories in 1969 showed that saltcedar occupied 39% of the floodplain. By 1979, 57% of the channel was occupied by saltcedar. Saltcedar invasion has caused ~3 m of sediment accumulation, reduced Brazos River width by ~90 m, and adversely affected the wide, shallow stream habitat utilized by two endangered cyprinids, Sharpnose Shiner Notropis oxyrhynchus and Smalleye Shiner N. buccula. This project will expand upon our study of surface water-groundwater interactions by investigating soil moisture, groundwater, and streamflow response to saltcedar control to be applied on the Double Mountain Fork. [Download PDF]
---
Landscape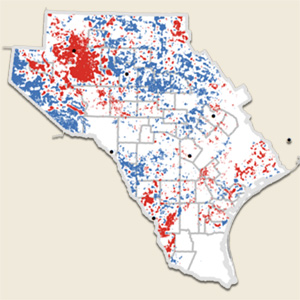 Evaluation of habitat and landscape alteration for the Spot-tailed Earless Lizard (Holbrookia lacerata)
The historic range of this lizard included ~47% of Texas. However, studies investigating the lizard's present population status are ongoing and U.S. Fish & Wildlife Service has initiated a review of the species' status to determine if listing this lizard is warranted. We mapped anthropogenic factors affecting the species' potential habitat, identified where unaltered habitat clusters remain, and directed surveys evaluating current populations to areas most likely to encounter the species. This study is part of a larger multi-institution research program evaluating the species' biological needs, current conditions, and future viability. This fundamental science will be integrated into a Species Status Assessment (SSA), which will inform all ESA decisions for the species. Our collaborators include UT-Austin Integrative Biology, The Nature Conservancy, TAMU, and UT-Arlington. [Download PDF 1] [Download PDF 2] [Download PDF 3]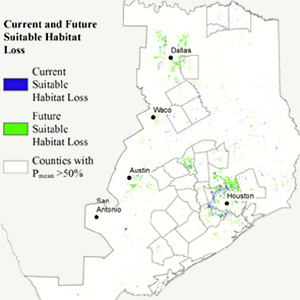 Habitat modeling and conservation of the Western Chicken Turtle (Deirochelys reticularia miaria) in Texas
The Western Chicken Turtle (Deirochelys reticularia miaria) is considered rare and declining throughout its range, although no range-wide population surveys have previously been conducted. The goal of this study was to determine biological and conservation requirements for Western Chicken Turtles in Texas. To this end, we modeled potentially suitable habitat across Texas and quantified current and future threats to habitat. We found that wetland loss and habitat fragmentation in urban and urbanizing rural areas, particularly around Houston, represented the greatest current and future threats to habitat. This study is in collaboration with TAMU. [Download PDF]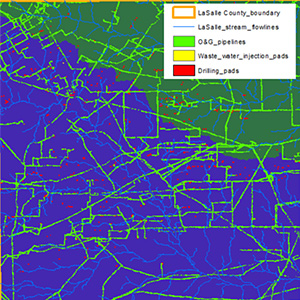 Time series of landscape fragmentation from energy exploration and development in the Eagle Ford Shale Play
Our research will establish an empirical database that measures the areal footprint of oil and gas infrastructure development from 2008 to 2014. This will allow comparative analyses as installation techniques change and progress, or as additional wells are added to existing infrastructure. This database can then be used to assess potential conflicts with species conservation, alteration of stream networks, alteration of vegetation, or changes in natural capital. [Download PDF]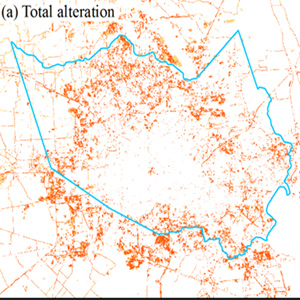 Habitat assessment for plains spotted skunk (Spilogale putorius interrupta)
In light of possible population declines of the Plains Spotted Skunk (Spilogale putorius interrupta) in Texas, we assessed landscape-scale factors modifying potential habitat from 2008 to 2012 in selected counties representing a range of economic activities. We quantified landscape alteration and fragmentation of expertly ranked potentially suitable core habitat. In collaboration with Angelo State University, we prioritized current habitat to direct surveys to sites with the greatest probability of encountering the species to assess current population status. [Texas Parks & Wildlife Magazine] [Download PDF]