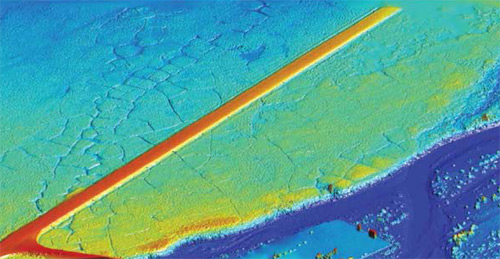 An Overview of New Earth Surface Imaging Capabilities at the Bureau of Economic Geology
The Bureau of Economic Geology (BEG, The Bureau), a research unit within the Jackson School of Geosciences at UT-Austin, owns and operates an airborne survey instrument system that incorporates topographic Lidar, bathymetric Lidar, and high-resolution imaging. This system, called Chiroptera, was designed and built for the Bureau by Airborne Hydrography AB to collect research-grade, high-resolution topographic (near-infrared, 1 nm wavelength) and shallow bathymetric (green, 0.5 nm wavelength) Lidar data to support diverse geoscience applications.
The Bureau also owns and operates BevoScan, a custom- built airborne hyperspectral imaging system. BevoScan incorporates four individual scanners that operate at wavelength in the visible to infrared range to acquire high-resolution imagery for a variety of geological, agricultural, environmental, and surveillance applications.
The Bureau has conducted numerous research-grade Lidar surveys since 2000 in North and Central America. Focus areas and topics include determining coastal change and tropical cyclone impacts on the northwestern Gulf of Mexico coast, assessing geologic hazards in sinkhole-prone areas, and conducting detailed geologic mapping throughout Texas. Adding the bathymetric capability in 2012 with Chiroptera has led to research projects as diverse as determining the size and depth of thermokarst lakes on the Alaskan North Slope, mapping the shallow seafloor along the Gulf of Mexico and Pacific coast of California, measuring water depths and river-bottom morphology along the Colorado River in Arizona, and quantifying water volumes held in oilfield pits.
Remote sensing staff at the Bureau welcome opportunities to explore innovative applications of topographic and bathymetric Lidar and hyperspectral imaging capabilities and to provide advanced Lidar and imaging services to internal and external research communities and State and Federal agencies.

System Specifications
Imaging system consists of 50 Megapixel natural color/color infrared DigiCAM camera; Hyperspectral camera-HyperScan VNIR-micro 16, which covers spectral range from visible (0.4 μm) to near infrared (1 μm) with 255 spectral bands; HyperScan SWIR-2500 sensor, which covers spectral range from 1 μm to 2.5 μm with 300 spectral bands; Broadband MWIR sensor, which covers spectral range from 3 to 5μm; and Microbolometer longwave infrared (LWIR) sensor, which covers spectral range from 7 to 15μm.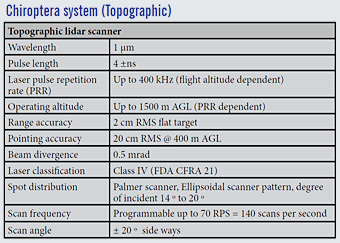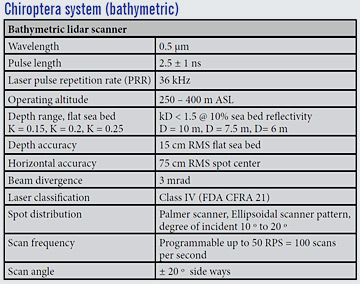 ---
Research Results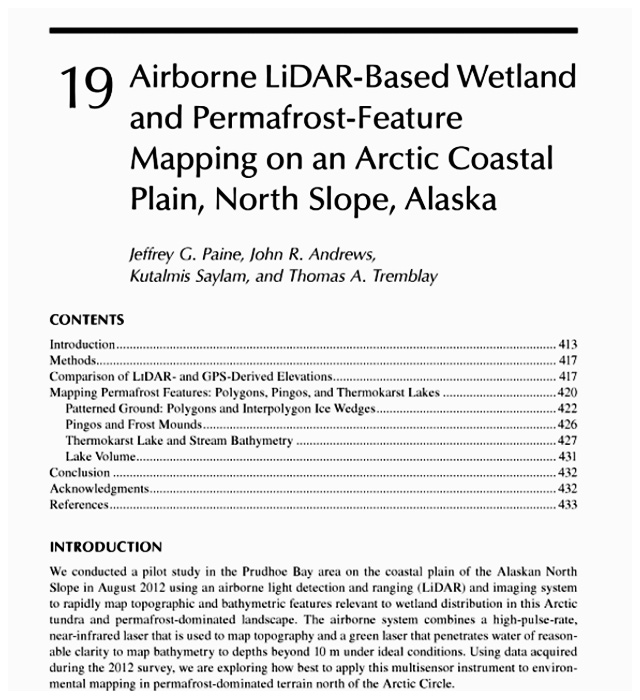 2015
Paine, J. G., Andrews, J. R., Saylam, K., and Tremblay, T. A., 2015, Airborne LiDAR-based wetland and permafrost-feature mapping on an Arctic coastal plain, North Slope, Alaska, in Tiner, R. W., Lang, M. W., and Klemas, V. V., eds., Remote sensing of wetlands: applications and advances: London, CRC Press, p. 413-434.
---
2017
---
2018
---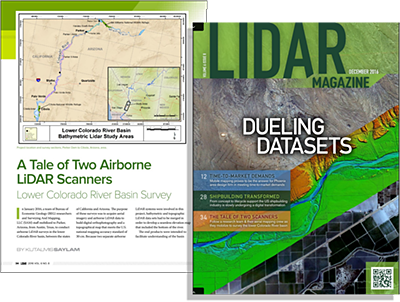 In early January 2016, Bureau airborne-imaging researchers conducted a field mission to survey the lower basin of the Colorado River, bordering the states of Arizona and California. The project was sponsored by the Bureau of Reclamation to understand and map the overall geomorphology of the river basin, including the water-bottom surface. The survey area consisted of 120 miles of the river, with varying terrain altitude, water clarity, depth, and flow conditions. Download the article in PDF format here.
---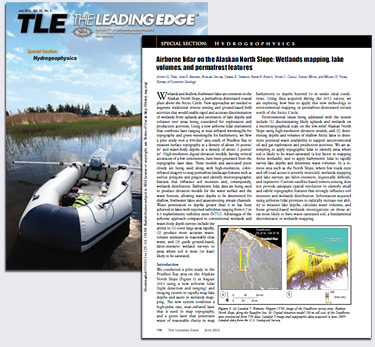 Among the first studies employing the Bureau's Chiroptera lidar unit is the Bureau's regional lidar survey near Dead Horse, Alaska in July and August, 2013. The survey, covering an area of roughly 450 square kilometers, gathered more than 13 billion topographic data points and more than 1.5 billion bathymetric data points.
This study became was featured in the article titled Airborne lidar on the Alaskan North Slope: Wetlands mapping, lake volumes, and permafrost features," by Jeffrey G. Paine, John R. Andrews, Kutalmis Saylam, Thomas A. Tremblay, Aaron R. Averett, Tiffany L. Caudle, Thoralf Meyer, and Michael H. Young, published in the July, 2013 issue of The Leading Edge, the journal of the Society of Exploration Geophysicists.
To read the full article, click here.
---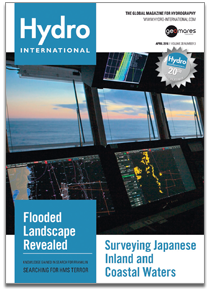 Bureau researchers returned to Deadhorse, Alaska in July 2014, and conducted numerous surveys to capture a larger area. In two weeks, more than 4,500 lakes were precisely surveyed using the Chiroptera Lidar system to calculate the bathymetric properties of each lake (e.g. depth, volume, size). Survey findings were particularly important for the project sponsor because they would reveal lakes deeper than 2 m (suitable for building ice roads), and serve other environmental and industrial purposes.
The study was featured in the April 2016 edition of the Hydro International journal, titled "Lidar bathymetry on the Alaskan North Slope" by Kutalmis Saylam, John R. Andrews, and John R. Hupp.
---
Lidar and Hyperspectral Imaging Staff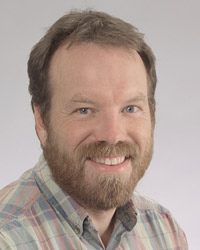 Manager, Near-surface observatory
Telephone: 512-471-1260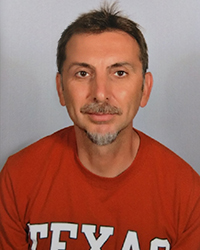 Airborne topographic and bathymetric lidar
Telephone: 512-471-1871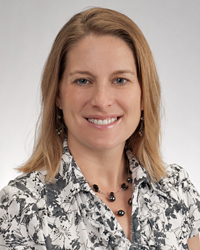 Lidar and GPS data acquisition, processing and application
Telephone: 512-475-9572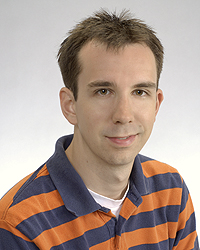 Aquisition logistics, technologies, and support
Telephone: 512-475-9551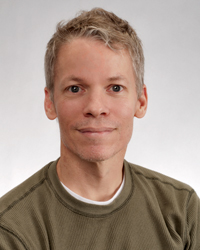 Data processing and visualization
Telephone: 512-704-5329