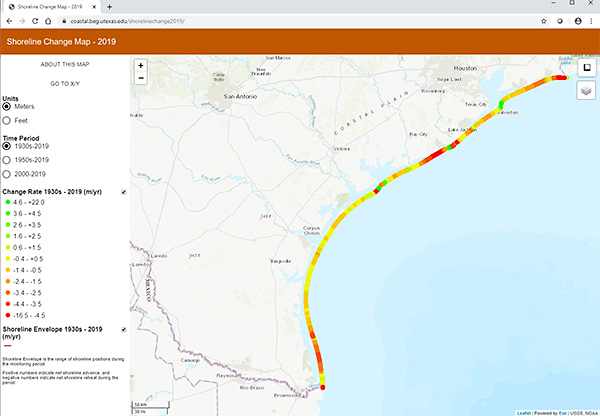 Introduction
Texas has a variety of shoreline types along its coastal bays and open Gulf of Mexico coast that are constantly shifting and mostly retreating landward. This retreat results in loss of private and public property and important natural habitats such as beaches, dunes, and marshes. To address this problem the Texas Legislature passed the Coastal Erosion Planning and Response Act in 1999. This act authorized the Texas General Land Office (GLO) to conduct a coastal-erosion response program. In support of the program, Bureau coastal researchers are identifying and studying eroding areas along the Gulf of Mexico and coastal bay shorelines of Texas, quantifying data gleaned from research and creating a comprehensive, digital database of historical shoreline positions and average annual rates of shoreline change that are being made available to the public through the Internet. Funding is provided by the Texas General Land Office, the Texas Coastal Management Program, and the National Aeronautics and Space Administration (NASA).

Goals
The goal of the Texas Shoreline Change Project is to develop a modern shoreline-monitoring and shoreline-change analysis program that will help guide coastal-erosion and storm-hazard-mitigation projects along bay and Gulf shorelines. This goal is being accomplished through digital rectification of historical photographs to extract past shoreline positions, airborne topographic lidar surveys for acquiring new and future shoreline data, selection of ground topographic transects, and establishment of Global Positioning System (GPS) reference points to support the monitoring. Funding from NASA has enabled the Bureau to develop the application of lidar and geodetic GPS surveys for tracking coastal change. The Bureau owns and operates an Optech Inc. lidar instrument and is continually developing new and improved coastal survey techniques. During 2002, we conducted lidar surveys of the upper Texas Gulf shoreline and the bay shorelines of West and East Bays in the Galveston Bay System. We have developed processing techniques for extracting shoreline positions from the lidar data, as well as mapping sediment volumes alongshore. Spatial variation in the sand volume and elevation and shape of the beach/dune system are primary controls on the amount of damage to landward structures that can occur during storms. This work involves mapping of these variations and developing new parameters to describe them for use in hazard mitigation.

Objectives and Methods
The TSCP will be implemented in a series of study areas defined by Gulf shoreline segment and bay system. The project includes mapping and analysis of the following Gulf of Mexico shoreline segments: Sabine Pass to Brazos River, Brazos River to Pass Cavallo, Port Aransas to North Padre Island (to the north boundary of the Padre Island National Seashore), and Mansfield Channel to Rio Grande; and the following bay systems: Matagorda, Copano/Aransas, Baffin, Corpus Christi, and West and Christmas Bays of the Galveston Bay System. For each area, the tasks required to achieve the following objectives will vary because of differences in the current status of shoreline data and because of differences in mapping methods for bay and Gulf shorelines. The overall objectives and the methods for achieving them include
Digitize and integrate into a Geographic Information System (GIS) historical shorelines that were previously mapped and are currently on paper base maps at the Bureau of Economic Geology.


Map, digitize, and integrate into the GIS additional historical shorelines so that all bays have data from at least the 1930's, 1950's through 70's, and 1982 and so that Gulf shorelines will have data at least every 16 years dating back to the 1950's.
Map select Gulf shorelines using airborne LIDAR mapping techniques.


Map bay shorelines using georeferenced 1995/96 photography from the Texas Orthoimagery Program (TOP) and U. S. Geological Survey.


Establish topographic ground-survey transects at select locations.


Compute shoreline rates of change and, where appropriate, project at least one future shoreline position.


Integrate Environmental Sensitivity Index (ESI) shoreline types with rate of change information and energy level as derived from fetch, shoreline orientation, and wind climate.


Compute statistics for bay systems and shoreline segments related to rate of change, such as (1) acres of land lost or gained and (2) average erosion rates for particular shoreline types and energy levels.


Work with GLO staff to identify "critical coastal erosion areas."


Generate reports that present and describe the data and explain the general causes of shoreline change in the area.


Serve maps, data, and reports on the Internet.