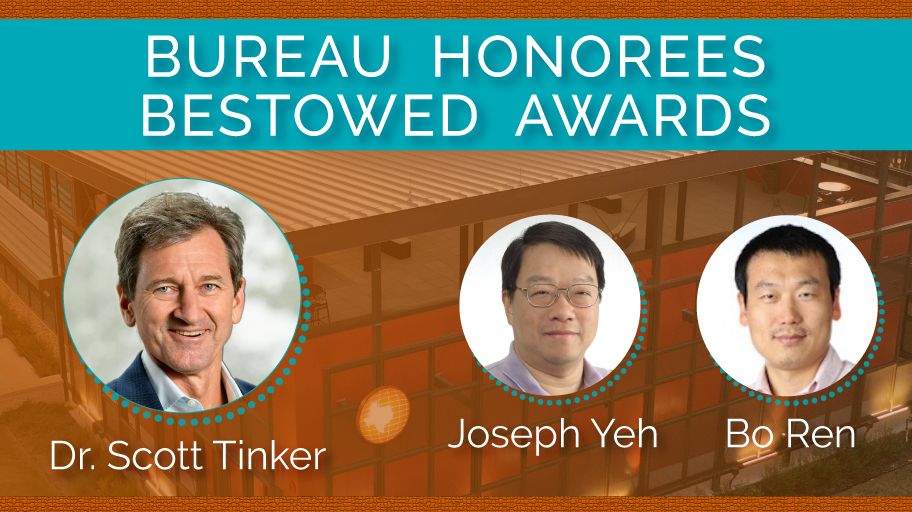 It is not unusual for the researchers and staff of the Bureau of Economic Geology to receive accolades for their distinguished research and service, but three of them have been honored in just the past few weeks.
Bureau Research Associate and reservoir engineer Dr. Bo Ren has just been awarded the 2021 Society of Petroleum Engineers Southwestern Region Young Member Outstanding Service Award. Bo is an improved low-carbon energy recovery engineer working for the State of Texas Advanced Resource Recovery (STARR) program. His research interests include CO₂-enhanced oil recovery, hydrogen, geological carbon sequestration, and reservoir optimization and management.
In addition, longtime Bureau of Economic Geology IT specialist Joseph Yeh was recently recognized with two important awards. He was nominated by Bureau colleagues and is now one of only 30 recipients of The University of Texas at Austin President's 2021 Outstanding Staff Award. Joseph has worked tirelessly since the initial evacuation of Bureau facilities last year at the start of COVID-19 safety precautions to ensure that researchers and staff have the equipment and the technical ability to work remotely. He was also honored this week by the Bureau of Economic Geology with its 2020 Bureau Staff Excellence Award for his vital role in successfully transitioning the Bureau to an entirely different way of conducting daily operations.
The third awardee is none other than Bureau Director Scott W. Tinker. Scott was just recognized by Hart Energy as the recipient of its special Energy Leadership Award. He is being recognized "for his influential writing, speaking, and documentary production and appearances, which advance understanding of resource development and the world's energy needs."
Please join all of us at the Bureau of Economic Geology in congratulating these distinguished individuals for their great work and these noteworthy awards.