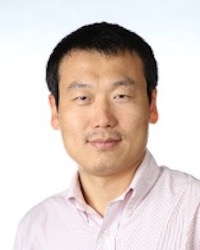 Bureau of Economic Geology
The University of Texas at Austin
University Station, Box X
Austin, Texas 78713-8924
Bo Ren is an improved low-carbon energy recovery engineer, working for the State of Texas Advanced Resource Recovery (STARR) program at BEG. His research interests include CO2enhanced oil recovery, hydrogen, geological carbon sequestration, and reservoir optimization and management. Much of his work is focused on understanding and controlling subsurface multiphase flow and reactive transport. He develops and uses full- and reduced-physics (first-principles) and physics-guided machine learning models to constrain the uncertainty in the prediction of fluid flow, carbon storage, and energy production.
Google Scholar II LinkedIn Profile II Hydrogen Research
Research Interests
Low-Carbon Energy
Data Science and Engineering Analytics
Improved Oil Recovery
Reservoir Engineering
Geologic Carbon Storage
Unconventional Resources
Education
Ph.D. Petroleum Engineering, The University of Texas at Austin, August 2017
Supervisor: Dr. Larry W. Lake, Co-Supervisor: Dr. Steven L. Bryant
M.S. Petroleum Engineering, China University of Petroleum (East China), June 2012
B.S. Petroleum Engineering, China University of Petroleum (East China), June 2009
Professional History
Research Associate, Improved Oil Recovery Engineer, Bureau of Economic Geology, The University of Texas at Austin, November 2019 – Present
Postdoctoral Fellow, Reservoir Engineer, Hildebrand Department of Petroleum and Geosystems Engineering, The University of Texas at Austin, September 2017 – October 2019
Geomodeler Intern, Bureau of Economic Geology, The University of Texas at Austin, May 2017 – August 2017
Reservoir Engineering Intern, BP America, May 2014 – August 2014
Graduate Research Assistant, Hildebrand Department of Petroleum and Geosystems Engineering, The University of Texas at Austin, September 2012 – May 2017
Graduate Research Assistant, China University of Petroleum (East China), September 2009 – May 2012
Selected Committees
Associate Editor, SPE Reservoir Evaluation & Engineering, 2019 - present
Program Committee Member, SPE Annual Technical Conference and Exhibition, 2020 - present
Associate Editor, Journal of Petroleum Science and Engineering, 2020 - present
Selected Awards
Outstanding Reviewer, SPE Journal, 2020
Career Development Publication Award, UT-Austin BEG, 2020-2021
Outstanding Reviewer, International Journal of Greenhouse Gas Control, 2018
Shell Research Award, UT-Austin GAIN (Graduate and Industrial Network), 2015
3rd Prize for Research Excellence in Energy & Environment, UT-Austin Energy Week, 2015
Recipient, ConocoPhillips Fellowship, UT-Austin, 2012-2013
Recipient, Roberto Rocca Scholarship, China University of Petroleum (East China), 2010 - 2011