A Pioneer in Subsurface Nanotechnology Research
The historical mission of the AEC has been to promote a transformational understanding of subsurface reservoir properties at greater distances, with higher resolution, and in a more efficient manner than current geo-physical tools allow. Over the past 14 years, the AEC has been a pioneer in developing micro and nanoscale sensors and smart materials to help illuminate the subsurface. Our research now enables remote monitoring of subsurface processes for environmental health, safety, energy, security, and structural integrity purposes—it will "change the game" in the quest for breakthrough alternative energy solutions.
Broad fundamental research thrusts have been narrowed down to various practical "use cases" representing AEC applications with solid potential for commercialization and benefit to the member organizations. The use cases utilize subsurface autonomous micro/nano sensors, smart materials, and payload delivery systems. The AEC has developed viable prototypes in each of these areas which are being customized by members for large scale field testing and manufacturing at industry scale.
AEC technology is now taking the next step as technologies are being integrated, creating application prototypes for field testing and commercialization, including remote electromagnetic imaging of hydraulic fracture networks; autonomous microsensors for wireless logging of wellbores, pipelines, and infrastructure; and targeted reservoir payload deliveries. At the same time, new research goals have been identified for the next decade of research.
Vision and Mission
Mission: Develop disruptive nanotechnology to optimize energy production
Vision: To enable transformational improvement in subsurface sensing, energy recovery, and environmental protection
Goal: Worldwide commercial adoption of breakthrough nanotechnology for sustainable energy production
Approach: Enable rapid prototyping of applied nanotechnology concepts to a TRL of >3 through collaborative research among scientists, industry leaders, and governmental agencies.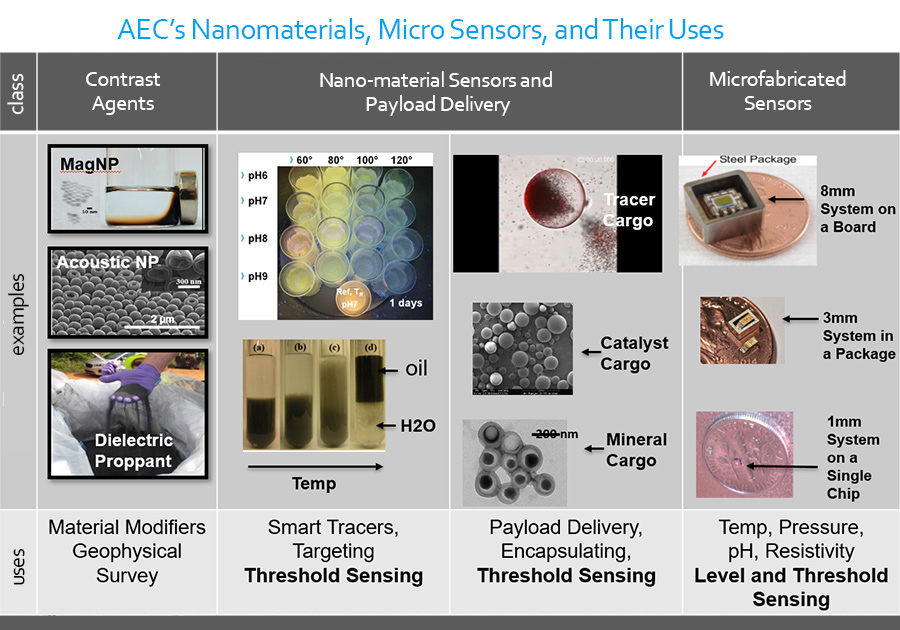 What's Next
Exciting possibilities over the next decade include the marriage of AEC's work in contrast agents, microelectronic sensors, and nano-payload delivery systems, combined with efforts in areas like smart well construction and completions.
The potential for game-changing applications is tremendous. The AEC looks forward to continuing to lead the nanotech­nology charge in energy and welcomes new partners with similar vision to join the consortium.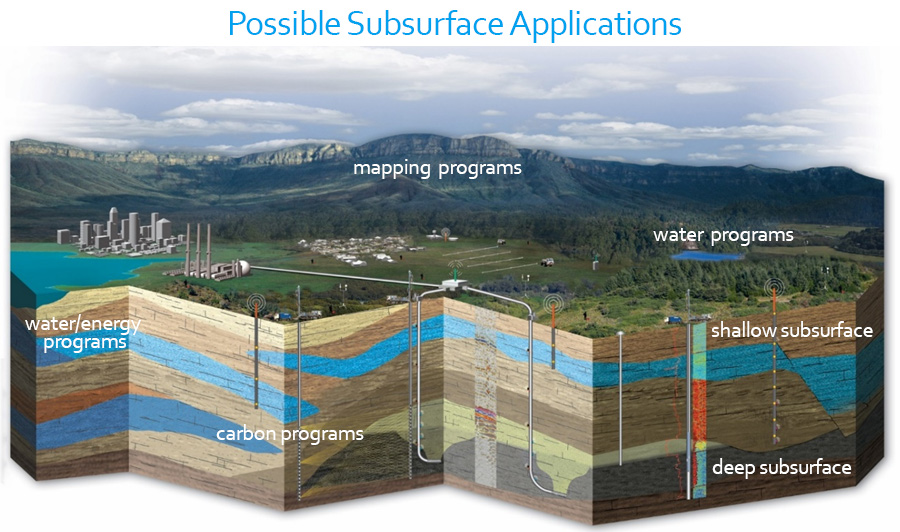 For membership and partnership information, please contact the AEC Principal:
Mohsen Ahmadian
512-471-2999
mohsen.ahmadian@beg.utexas.edu
Videos