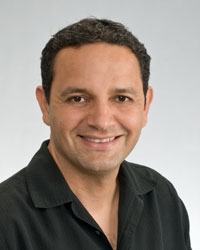 Bureau of Economic Geology
The University of Texas at Austin
University Station, Box X
Austin, Texas 78713-8924
Dr. Mohsen Ahmadian is a Project Manager and Scientist at the Bureau of Economic Geology at The University of Texas/Austin. Drawing on over 20 years of experience in nanotechnology, semiconductor, and biotech industries, he has been in charge of managing two portfolios of cutting edge Nanosensor research programs for the Advanced Energy Consortium (AEC) since 2010. These portfolios have been focused on synthesis and characterization of passive, active or reactive nano and micron-size particles as contrast agents, or sensors with either selective oil-seeking properties for enhanced oil recovery, or for the remote "illumination" of resources in subsurface reservoirs. He has also been leading the technology demonstration for three application development efforts for the AEC, including a large scale pilot test for hydraulic fracture mapping with electromagnetic contrast agents.
Research Interests
Biotech, Nanotech & Semiconductor industries
Matrix project management, risk assessment and gap analysis
Nanosensors
Applied research
Effective technology transfer
Education
Ph.D. Cell Regulation: Department of Pharmacology, UT Southwestern Medical Center, Dallas TX, 1991 to 1996
M.S. Molecular Biology: University of North Texas, Summa Cum Laude, Denton TX, 1988 to 1990
B.S. Biology/Chemistry: University of North Texas, Cum Laude, Denton TX, 1985 to 1988
Professional History
ADVANCED ENERGY CONSORTIUM, Project Manager, 2010 to present
KLA-TENCOR CORPORATION, Senior Staff Applications Development Engineer and Project Manager, 1997 to 2011
HAMON CENTER FOR THERAPEUTIC ONCOLOGY RESEARCH, Post Doctoral Fellow, 1996 to 1997