Bureau IT Team Steps Up to Address COVID-19
March 24, 2020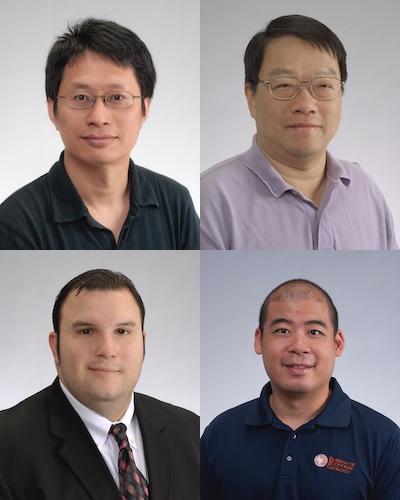 Bureau of Economic Geology building facilities boast a sophisticated network of computers and other communication technology which have enabled its researchers, students, and staff to connect with colleagues across the campus and around the globe and to tackle vital research questions. That all recently changed when Bureau facilities were shuttered and staff and researchers were asked to work remotely as the organization managed the COVID-19 situation.
In the midst of this unexpected and dramatic change, the Bureau's Information Technology team stepped up to ensure a relatively seamless transition to a new IT model utilizing remote connections. For a culture without a history of remote interconnectivity, this rapid transformation by the IT team was remarkable. They realized that this situation called for "all hands on deck," and they worked flawlessly as a team to create an effective remote network environment.
These unsung heroes—led by Poe Chen and including team members Joseph Yeh, Chuck Garza, and David Chang—loaded remote connection software onto many individually owned laptops and provided Bureau laptops to individuals who did not have one at home. They scheduled and held online training sessions in remote connecting and virtual meeting applications, and they have arranged and continue to produce high-level streamed research presentations.
Commented Jay Kipper, Bureau Associate Director for Operations, "They sure have been a ray of sunshine in these otherwise dreary days." Added Cathy Brown, Media Group manager, "We couldn't ask for a more dedicated team."