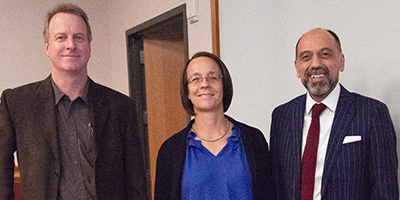 The Bureau of Economic Geology recently hosted the joint annual meeting of its TexNet Seismic Observatory (TexNet) and Center for Integrated Seismicity Research (CISR). The productive gathering brought together the organizations' industry and agency partners to engage with the TexNet-CISR research team of scientists and engineers representing universities and institutions throughout Texas. The research groups' principal investigators, TexNet's Alexandros Savvaidis and CISR's Peter Hennings and Ellen Rathje, conducted the meeting.
The two-day meeting featured in-depth presentations of a great number of studies within broad research themes, such as hazards, network deployment, geology, modeling and seismology, as well as summaries of work in various areas of the state, including the Fort Worth Basin, West Texas, and the Eagle Ford region. Progress in meeting research objectives was outlined, and a detailed plan for future research and seismometer-network expansion was laid out and discussed.
Papers of great societal and scientific interest have recently been published by TexNet-CISR team members. Publications have included an analysis of newly evident faults in the Fort Worth Basin, the finding of a possible link between industry operations and some small earthquakes in the Delaware Basin, and a summary of the increase in low-level earthquake activity between 2000 and 2017 in an area of the Permian Basin near the city of Pecos, Texas.
A growing cohesion was evident during the meeting as the academic, industry, and government stakeholders in TexNet-CISR research shared data, findings, and ideas in a mutual effort to identify and mitigate the causes of earthquake activity in the state of Texas.
For more information on TexNet-CISR, contact Mark W. Blount , Bureau of Economic Geology External and Governmental Affairs.