Equinor Fellows Present Research at Event
September 27, 2019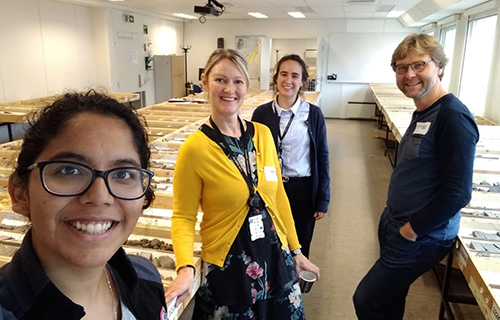 Bureau of Economic Geology industry partner Equinor recently hosted an informal event at its Austin headquarters to showcase Equinor Fellows from UT Austin and their research for the Equinor community. Cullen Kortyna and Esben Pedersen represented the Bureau, presenting posters featuring their research to interested individuals from several Equinor divisions.
The Equinor Fellows Academic Program works with several universities worldwide to stimulate collaboration between academic institutions and industry, and to recruit for Equinor and the energy sector in general. The fellowships are connected with strategic technologies and competences for Equinor.
"During the past few years, Equinor has been committed to supporting graduate education and research because we think it is a good investment in the future, not only for Equinor but also for the broader energy industry and for society as a whole," said Lorena Moscardelli, Principal Researcher in the Austin office, and Equinor Fellows liaison to UT Austin. "Of course, we are always looking for talent, which we define both by technical abilities and the potential to innovate, but also by the capacity to share our corporate values. In Equinor, we are open, collaborative, courageous, and caring!"
Kortyna's project, "Fluvial-to-Marine Sediment Transfer Dynamics from Stratigraphy, Thermochronometry, and Weathering Proxies in South Texas," was supervised by the Bureau's Jake Covault and by Daniel Stockli. Pedersen's project, "Carbonate Factory Recovery Following Oceanic Anoxic Events: A Closer Look at the Cow Creek Member in the Pearsall Formation," was supervised by the Bureau's Toti Larson and Charlie Kerans.
Other showcased posters include Kiara Gomez's "Geochemical Fingerprinting as a Tool for Paleo-Environmental Reconstructions in the Norwegian Continental Shelf," which was supervised by Kerans, Larson, and Moscardelli as a collaborative UT–Equinor research project. The Bureau's Xavier Janson also served as supervisor on research developed by Leo Zeng of UT Austin's Jackson School of Geosciences.