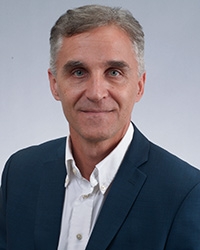 Bureau of Economic Geology
The University of Texas at Austin
P.O. Box X
Austin, Texas 78713-8924
Dr. Toti Larson is a Research Associate and Principal Investigator of the Mudrock Systems Research Laboratory (MSRL) consortium at the University of Texas at Austin, Bureau of Economic Geology. As PI of the MSRL since 2019, Toti coordinates with Energy companies to identify knowledge gaps and develop subsurface geology characterization projects that leverage the MSRL research team strengths. In his own research Toti applies geochemistry, geology, and machine learning tools to develop predictive subsurface characterization models. Toti built a Python package (CorePy) for open source sharing of subsurface characterization tools and geological characterization workflows he has developed.
Research Interests
Mudrock sedimentology & stratigraphy
Computational geosciences
Integrating core characterizations with petrophysics
Paleoceanography and tracing oceanic anoxic events
Unconventional oil and gas reservoirs
Carbon capture and utilization
Education
Ph.D., Geochemistry, University of New Mexico, Earth and Planetary Sciences, 2003
M.S., Geology, University of New Hampshire, Department of Earth Sciences, 1999
B.A., Geology, Albion College, Geological Science, 1993
Professional History
2019 – present, Principal Investigator, Mudrock Systems Research Laboratory (MSRL) Industrial Affiliate, Bureau of Economic Geology, The University of Texas at Austin
2017 – present, Research Associate, Bureau of Economic Geology, The University of Texas at Austin
2012 – 2017, Research Science Associate, Department of Geological Sciences, The University of Texas at Austin
2005 – 2012, Technical Staff Scientist, Los Alamos National Laboratory, Los Alamos, New Mexico
2003 – 2005, Postdoctoral Fellow, The University of Western Ontario, Ontario, Canada
1999 – 2003, Research and Teaching Assistant, The University of New Mexico
1996 – 1999, Research and Teaching Assistant, The University of New Hampshire
1995 – 1996, Geologist, Kennecott Mining Company, Salt lake City, Utah
1993 – 1995, Geologist, Bureau of Land Management, Lake View, Oregon and Salt lake City, Utah
Peer-Reviewed Publications
Please see my Curriculum Vitae and the following links for references and downloads of peer-reviewed publications: