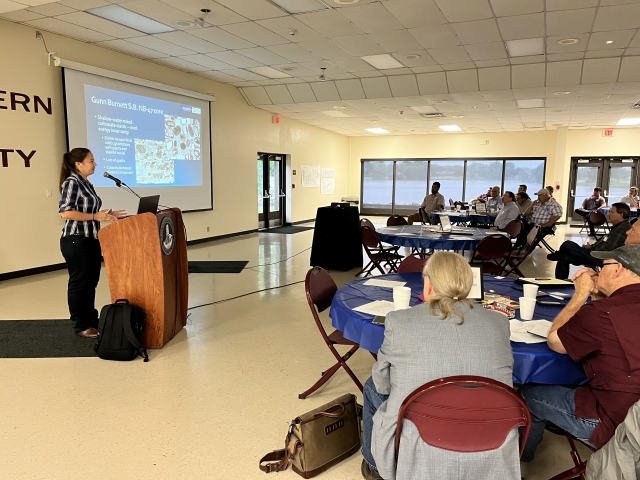 State of Texas Advanced Resource Recovery (STARR) program researchers recently visited the Oil Information Library of Wichita Falls to conduct a workshop on the increasingly hot topic of the mixed carbonate-siliciclastic systems of the Strawn Group. The objectives of the workshop included discussion of the Strawn Group petroleum system, examination of the relationship between carbonate and siliciclastic systems across the Eastern Shelf, and consideration of the potential underlying controls on the evolution of the Strawn Group's stratigraphy and sedimentology. The multidisciplinary STARR team was led by Bureau of Economic Geology researchers Peter Flaig, Kelly Hattori, and Lucy Ko. The team is very grateful for the hospitality of the staff from the Oil Information Library of Wichita Falls and the proactivity of all of the workshop participants.
STARR is currently leading an important research effort to better characterize the evolution of the Strawn Group in the Eastern Shelf. This initiative will support current efforts by operators who are targeting the Strawn Group for hydrocarbon exploration and production. In addition, this research will help to close the knowledge gap associated with the development of mixed carbonate-siliciclastic systems.
The STARR team is currently searching for a postdoctoral researcher interested in joining this effort. If you are a recent Ph.D. graduate and are interested in joining a great research team, please see the job posting here.