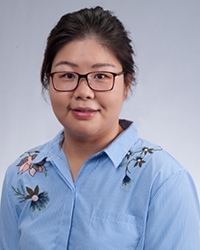 Bureau of Economic Geology
The University of Texas at Austin
P.O. Box X
Austin, Texas 78713-8924
Dr. Lucy Tingwei Ko is an integrated geologist, geochemist, and petroleum system analyzer. She started her career as an organic geochemist, using biomarker to understand the effect of clay minerals on migration fractionation. She then did her MS at Colorado School of Mines, where she compared gas isotope, gas composition, and biomarkers in the lab (hydrous pyrolysis) and field to unravel the possible migration and filling of the gases in the tight gas basins in the Rocky Mountain region. After moving to Texas, she decided to switch her career focus to mudrock sedimentology and stratigraphy, linking fundamental process-driven mechanisms to predict reservoir quality and properties in the unconventional systems. She aims to study mudrocks in different depositional and environmental settings and tries to understand changes in rock and fluid properties before and after burial and thermal maturation. She is a true integrator and has established in-depth understanding of lithological and geological controls on geochemical properties.
Research Interests
Unconventional reservoir characterization (TOC, OM type, pore system, pore type, pore connectivity)
Petrography & Diagenesis (qualitative and quantitative)
Mudrock sedimentology & Stratigraphy
Marine geology & paleoceanography
Digital mudrock & machine learning application
Organic geochemistry, biomarker
Gas isotope geochemistry
Organic petrography
PVT and fluid properties
Basin modeling
Education
Ph.D., Geological Sciences, University of Texas at Austin, Austin, TX, USA (2017)
M.S., Geology, Colorado School of Mines, Golden, CO, USA (2010)
M.S., Geosciences, National Taiwan University, Taipei, Taiwan (2007)
B.S., Geosciences, National Taiwan University, Taipei, Taiwan (2005)
Professional History
Research Associate, Bureau of Economic Geology, Jackson School of Geosciences, The University of Texas at Austin, Austin, TX (March 2020-present)
Postdoctoral Fellow, Bureau of Economic Geology, Jackson School of Geosciences, The University of Texas at Austin, Austin, TX (August 2018–March 2020)
Professional Intern, ConocoPhillips, Deep Water Gulf of Mexico Exploration & Appraisal, Houston, TX (September–November 2014)
Professional Intern, ConocoPhillips, Subsurface Technology and Reservoir Engineering, Reservoir Quality Prediction Team, Houston, TX (June–August 2013)
Professional Intern, Platte River Associates, Inc., Petroleum System, Basin, and Reservoir Modeling, Boulder, CO (November 2010–June 2011)
Awards
Presentation Award at 2016 CAPA Petroleum and Petrochemical Technical Symposium
Best Poster Award at HGS Mudrocks Conference AGS February 2015
Presentation Award at 2014 CAPA Petroleum and Petrochemical Technical Symposium
Jackson School of Geosciences Merit Scholarship, ConocoPhillips Fellowship
Dean's Award, College of Science, National Taiwan University
Peer-Reviewed Publications
Please see the following links for references