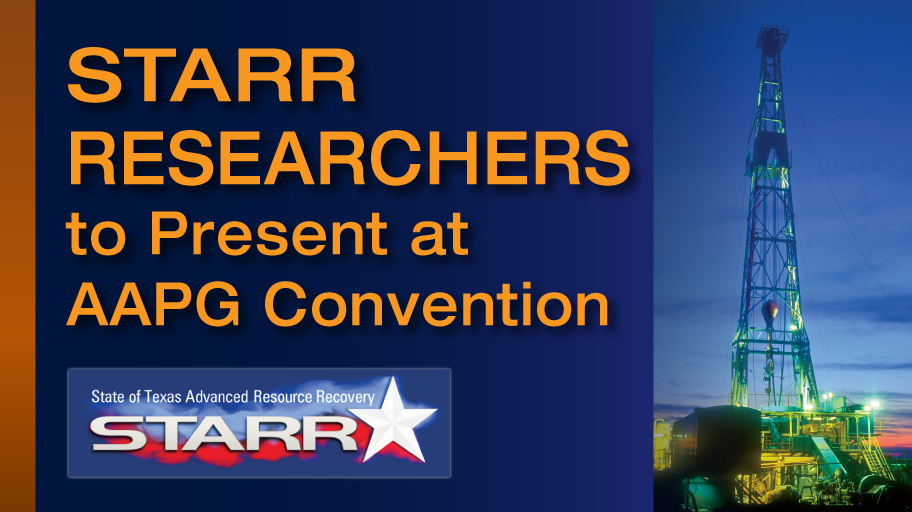 On Tuesday morning, June 29, the Bureau of Economic Geology's State of Texas Advanced Resource Recovery (STARR) program will host a session at the Southwest Section of the American Association of Petroleum Geologists (SWS AAPG) Convention. The STARR session will focus on recent research involving Texas' Eastern Shelf and the Fort Worth Basin. One of the objectives of the session is to introduce to participants the vital role that STARR plays in supporting knowledge creation and sharing for the benefit of oil and gas operators in the region. Over the 2 days of the convention, 11 Bureau researchers will share a wide range of geoscience and engineering research findings, and their extensive expertise, with those in attendance.
The STARR program was created in 1996 to perform geoscience research in support of the extraction of energy resources in Texas. The program accomplishes this mandate by establishing regional studies; by assisting operators with their reservoir characterization and exploration challenges; and by fostering technology transfer via publications, conference participation, and other engagements. STARR researchers deploy a multidisciplinary and multiscale integrative approach that combines both geoscience and engineering competencies.
At the convention, STARR researchers will present a diverse collection of case studies that range in both scale of observation and geological domain. Contributions include the characterization of quartz types in the Upper Pennsylvanian organic-rich Cline shale (Wolfcamp D) in the Midland Basin as well as the Upper Mississippian Barnett Shale in the Fort Worth Basin. An updated basin stratigraphic framework for the southern Permian, highlighting implications for the distribution of mixed carbonate–siliciclastic Virgilian and Wolfcampian reservoirs (Cisco-Cline-Wolfcamp D/C/B), will also be presented. Further, technical contributions dealing with the depositional systems of the Strawn Group in the Fort Worth Basin and Eastern Shelf region will be shared, and STARR carbonate specialists will discuss the character of facies and sequence stratigraphy of the Early Cretaceous Pettet Formation in East Texas.
The STARR philosophy supports the deployment of advanced recovery strategies and newly developed technologies to ensure maximum recovery efficiency. During the convention, researchers will discuss work on the geology and reservoir properties of the Residual Oil Zone (ROZ) of the San Andres Seminole Unit in West Texas. STARR is also adapting to new trends in the utilization of machine learning and artificial intelligence: researchers will present an example of lithofacies segmentation in cores from the Wilcox Group (Gulf of Mexico) and Spraberry Formation (Permian Basin) using U-net based convolutional neural networks.
For more information on the 2021 SWS AAPG Convention, see the technical program. To learn how you can work with the researchers of STARR, contact Lorena Moscardelli.