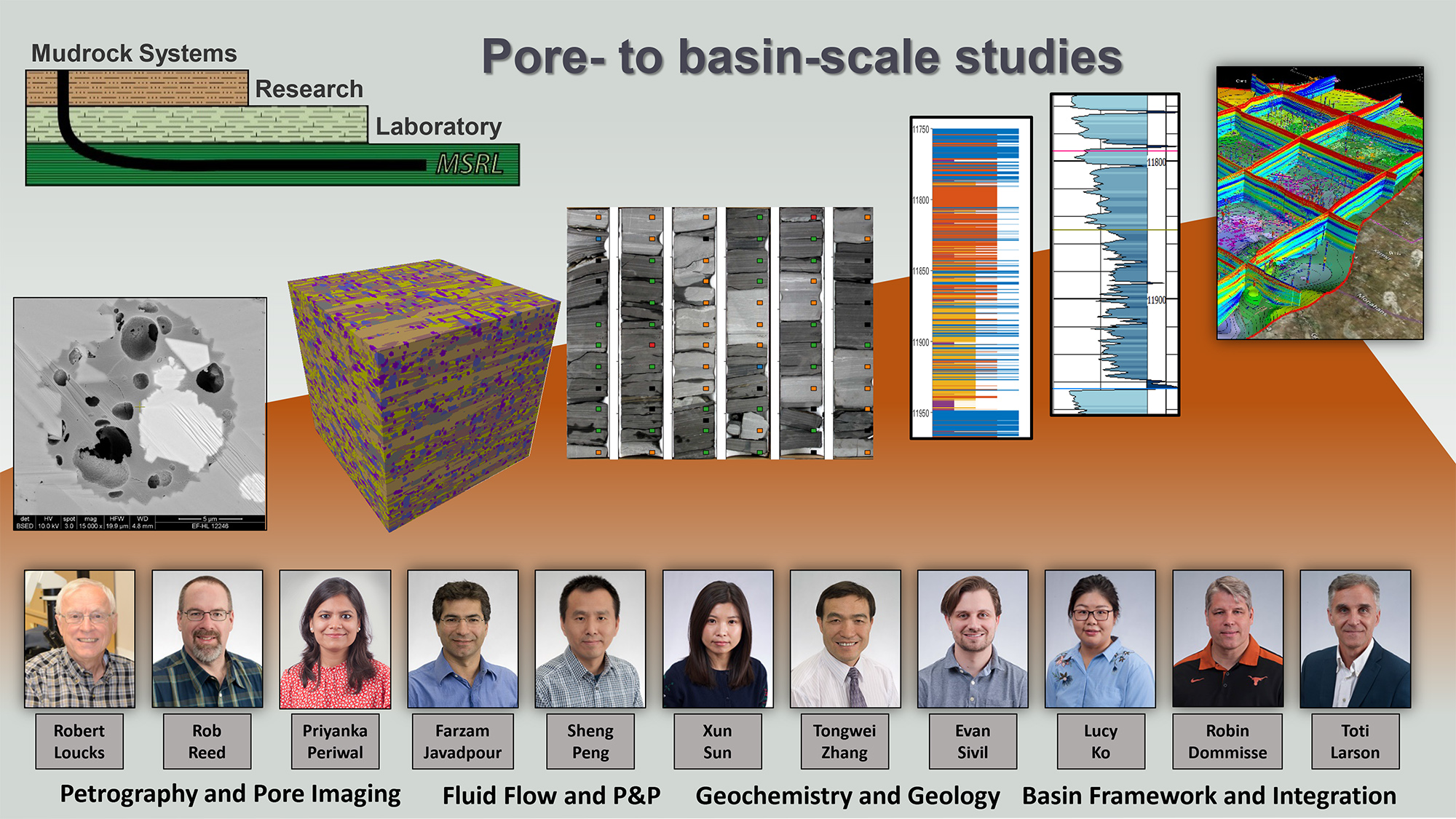 Since 2009, the primary focus of the Mudrock Systems Research Laboratory (MSRL) research consortium has been to integrate core measurements into reservoir characterization models, and to improve our understanding of fluid flow in nanoporous systems. In April 2021, MSRL researchers hosted their annual technical meeting, which included four half-days of technical talks and a half-day short course titled "Fundamentals of Mudrock Systems". Over the course of the virtual meeting, over 110 industry scientists from 19 companies attended. In addition to presentations from MSRL researchers, Dr. David Mohrig, Associate Dean of the Jackson School of Geosciences, presented a short course titled "Mudrock Depositional Processes and Deepwater Turbidites."
The technical program covered fluid flow modeling and experimental results, and reservoir architecture and attributes of the Eagle Ford Shale, Austin Chalk, Bone Spring Formation from the Delaware Basin, and Wolfcamp A and B from the Midland and Delaware Basins. New reservoir characterization studies of Wolfcamp "XY sands" and First Bone Spring Sand and Second Bone Spring Lime were presented. The short course that focused on the fundamentals of mudrock systems is one of four short courses the MSRL is teaching in 2021.
Mudrock Systems Research Laboratory researchers demonstrated the importance of integrating core and wireline measurements across multiple scales to improve our understanding of, and ability to predict, reservoir quality across basins. Examples include using scanning electron microscopy (SEM) to image pore network distributions, detailed lithofacies characterization to capture important changes in mineralogy and rock fabric, organic-matter characterization and produced-fluid geochemistry to understand oil generation and migration, fluid saturations and H2S risk assessment, and high-resolution X-ray fluorescence (XRF) core scanning to upscale core-based measurements to wireline logs.
Fluid flow and modeling results from MSRL researchers highlighted new understandings in oil recovery and two-phase flow in nanoporous systems. New integrated micro–computed tomography (micro-CT) and SEM imaging and imbibition experimental results from Wolfcamp and Eagle Ford samples were presented that allow MSRL researchers to visualize porosities saturated with residual oil areas after water imbibition and to calculate oil recovery factors. The complexities of nanoporous two-phase flow, and approaches MSRL researchers are using to derive macroscopic parameters such as relative permeability curves, were discussed.
The MSRL is supported by industry partners who contribute financially and provide data sets to the research consortium. The MSRL mission is to develop a better understanding of reservoir framework and reservoir quality through measurement and modeling. MSRL researchers take pride in the integrative multidisciplinary approach to characterize, model, and integrate core-based measurements to better understand mudrock reservoir systems. For more information about how your organization can participate in these efforts, contact Dr. Toti Larson, Principal Investigator (PI), or Dr. Farzam Javadpour, Co-PI of the MSRL.