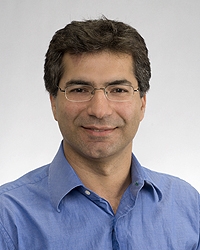 Bureau of Economic Geology
The University of Texas at Austin
University Station, Box X
Austin, Texas 78713-8924
Research Interests
My research interest is transport in porous media. Natural rocks are among the most fascinating and complicated porous systems. My current research includes gas and liquid flow in unconventional shale reservoirs and the use of engineered nanoparticles for Enhanced Oil Recovery (EOR) and reservoir characterization applications. This interest has led me to work on different projects. Some examples are:
Shale gas characterization (porosity, permeability, PSD)
Reserve estimation of shale gas reservoirs (Canister tests, Multicomponent sorption isotherms)
Gas flow modeling in shale gas reservoirs (micro to macroscale)
Liquid flow in nanopores of gas shale reservoirs (frac fluid loss and liquid hydrocarbon flow)
Theoretical and experimental studies of microscopic interactions of fluid molecules and pore walls in shale system
Theoretical and experimental studies of interaction of nanoparticles and fluid interfaces (oil-brine; air-brine)
Theoretical and experimental studies of nanoparticle interaction and mineral grains in aqueous and non-aqueous media.
Education
B.Sc. with Distinction Petroleum Engineering, Petroleum University of Technology, Iran
M.Sc. Chemical and Petroleum Engineering, University of Calgary
Ph.D. Chemical and Petroleum Engineering, University of Calgary
Membership
Editorial Review Board, Journal of Canadian Petroleum Technology (Issue Coordinator of August 2008 issue)
Professional Experience
Farzam, currently working as a Research Scientist, has led a NanoGeosciences lab to study fluid flow in unconventional shale gas reservoirs and nanoparticle transport in porous media. Farzam has worked as a reservoir engineer in industry for 7 years. As a Research Scientist, at the Alberta Research Council, Farzam was involved in CO2 injection field pilot design and shale gas characterizations. He has taught undergraduate and graduate level courses at the University of Calgary (Canada) and UT-Austin. He has published 50+ peer-reviewed technical papers and conference proceedings on topics related to reservoir engineering and transport in porous media