Rock Your World
About this presentation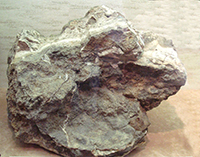 "Rock Your World" will educate students and teachers about the many ways that rocks and minerals are used in our everyday world. It helps connect the sparkly and colorful things seen in rock and mineral sets to everyday items derived from these rocks and minerals.
Geologist John Mikels will show samples of some of these rocks and minerals and discuss how they're used:
Bauxite aluminum: cans, foil, building materials
Clays (many types): bricks, porcelain, cat-litter, paints, gravel
Copper: pennies, copper wire
Fluorite, fluorspar: toothpaste, ceramics, optics
Galena lead: weights
Graphite: pencil leads, lubricants, electronics
Halite: rock-salt, table salt.
And more!
John will also talk about how rocks and minerals contribute to objects in our surroundings, such as glass windows, steel table legs, electrical wiring, and light bulbs. He will also show some crude oil samples and talk about the resources derived from it, such as fuels, lubricants, and plastics. Finally, he will discuss water—Earth's most important resource.
Be sure to ask questions!
---
---
About the presenter
John K. Mikels, Professional Geologist

John is a geologist with over 40 years of diverse experience. His formal geology education was at Baylor University (B.S.) and The University of Texas at El Paso (graduate studies). His professional experience is largely in the areas of hydrogeology (groundwater resource assessment and development) and the geologic and environmental assessment of land prior to development. Most of his work has been in Texas. However, some projects have taken him to several other states (Arkansas, California, Florida, Kansas, Louisiana, Mississippi, New Mexico, Oklahoma, Wyoming) and even abroad (Mexico, Taiwan, Venezuela, Zimbabwe, Canada).

---
Educational Resources
Video (view on YouTube)

Presentation (PDF, will be posted after the event)

Activities

Educational Resources