What Can the Fossil Record Tell Us?
About this presentation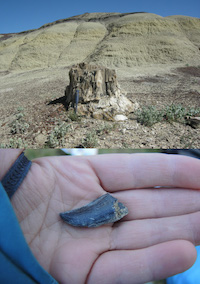 Fossils are evidence of past life. But how much information do different kinds of fossils reveal? In this lesson, two paleontologists will discuss how the rock record preserves a wealth of clues on how extinct organisms interacted with their environments.
---
---
About the presenters
Lisa Boucher

Curator and Director, Non-vertebrate Paleontology Laboratory

Lisa Boucher is the Director and Curator of the Non-vertebrate Paleontology Laboratory in the Jackson School of Geosciences at The University of Texas at Austin. She is a paleobotanist specializing in Cretaceous macrofloras and has collected fossils in several regions in the U.S. as well as field research in Antarctica and Madagascar. Prior to her position at UT, Lisa was an Associate Professor at University of Nebraska-Omaha and a postdoc with Smithsonian Institution's National Museum of Natural History.

---

Sarah Davis

Sarah Davis is a Ph.D. candidate in the Jackson School of Geosciences at The University of Texas at Austin. She studies the evolution of theropod dinosaurs, including birds, and primarily works on fossils from South America. She is also interested in how birds make their bright coloration, and studies pigments used in living birds.

---
Educational Resources
Video (link to YouTube)

Presentation (PDF, will be posted after the event)

Educational resources