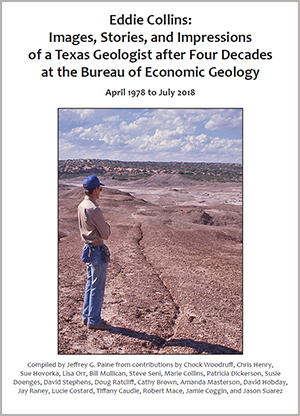 After more than 40 years, geologist Edward Collins is retiring from the Bureau of Economic Geology. A 1975 graduate of Trinity University, Collins received an M.S. degree in geology from Stephen F. Austin State University in 1978 and joined the Bureau staff in April of that year. Collins will leave a considerable legacy, especially for his many contributions to Texas geology. Lauded by his peers for his exceptional skills in field geology, Collins is author of hundreds of publications, including geologic maps, guidebooks, journal articles, field guides, contract reports, conference abstracts, online applications, and more. Collins is past president and member of the executive committee of the Austin Geological Society (AGS) and led numerous field trips and outreach activities for AGS and affiliated organizations. He also served as mentor to many up-and-coming career geologists at the Bureau and other institutions.
Collins may be remembered best as long-serving director of the STATEMAP program, which is part of the National Cooperative Geologic Mapping Program administered by the U.S. Geological Survey. Working with scientists and managers of agencies—including the Texas Water Development Board, Texas General Land Office, Railroad Commission of Texas, Texas Parks and Wildlife Department, Texas Commission on Environmental Quality (TCEQ), Texas Natural Resources Information System, the U.S. Geological Survey, and the U.S. Fish and Wildlife Service—Collins was instrumental in identifying and prioritizing geologic map studies throughout Texas. His maps of the Central Texas corridor and the West Texas region, especially the Big Bend National Park, are among some of his most important work. He also played significant roles in numerous other projects, including the TCEQ Colorado River Basin Salinity Project, the Low-Level Radioactive Waste Disposal project in West Texas, and the Superconducting Super Collider project, as well as in studies of the Edwards Aquifer and Wink sinkholes.
It's simply not possible to accurately recount a lifetime of work and accomplishments in a couple of paragraphs. A much better sketch is captured in a brief overview of the career and contributions of Collins compiled by fellow Bureau researcher Jeffrey Paine, with commentary and photos by Bureau employees past and present. To Read "Eddie Collins: Images, Stories, and Impressions of a Texas Geologist after Four Decades at the Bureau of Economic Geology," click here or on the image above right.