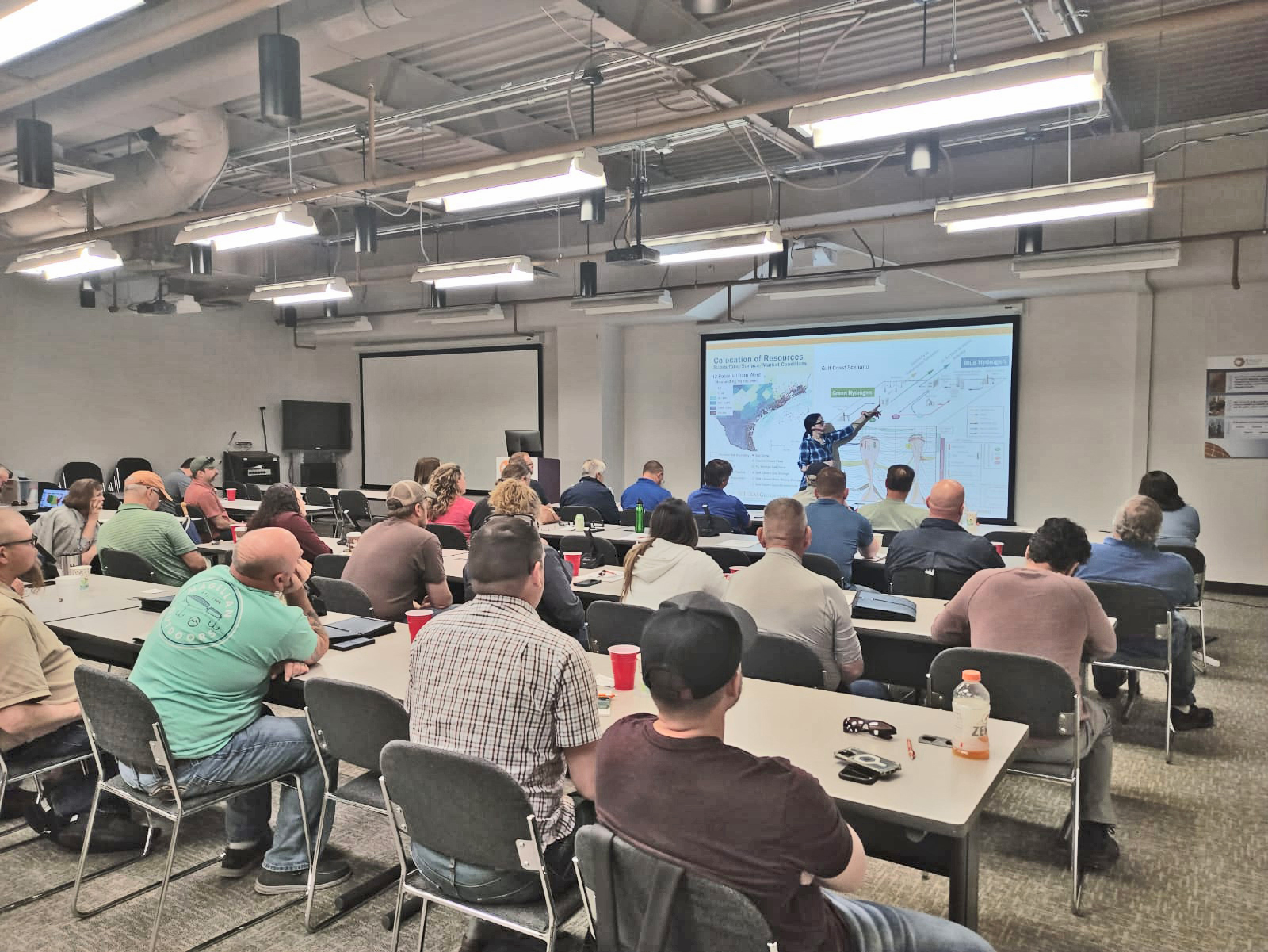 STARR researchers have been busy engaging in a wide variety of activities aligned with STARR's mission to conduct geoscience and engineering research to help increase the production and profitability of earth resources within Texas while encouraging responsible economic development and supporting education and environmental stewardship.
In April, Dr. Lorena Moscardelli delivered a talk on "The Hydrogen Economy and Subsurface Storage Real Estate" to TOPCORP. TOPCORP is a comprehensive, practical training program based on scientific principles for state and federal regulators, field inspectors, and policy makers to better understand the technologies employed in a wide variety of energy field operations. Moscardelli talked about the role of the subsurface, particularly in Texas, when it comes to supporting the emerging hydrogen economy via hydrogen storage in salt caverns. STARR postdoctoral researcher Dr. Ander Martinez-Doñate then showcased a series of cores from bedded salt formations in West Texas and Louann domal salt from the Texas Gulf Coast. The discussion focused on the technical aspects and identification of opportunities and challenges for Texas within the context of the emerging hydrogen economy.
The month of May was an extremely busy time for STARR. Researchers had a big presence celebrating the 100th anniversary of the Southwest Section of the American Association of Petroleum Geologists (AAPG) in Wichita Falls, Texas. Dr. Lucy Ko, Dr. Peter Flaig, Kelly Hattori, Bill Ambrose, and Eric Radjef attended the conference and delivered a series of technical talks showcasing recent research outputs from STARR, including new insights on the Strawn Formation, Cisco Group, and Barnett Shale. The STARR team is very fond of their rocks, so they also traveled with some Strawn core to Wichita Falls to show the attendees what the real deal looks like.
Finally, May was also the month of Texas volcanoes at the Bureau! In 1916, Dr. Udden and collaborators published "The Thrall Oil Field" in the Bulletin of the University of Texas. One hundred and seven years later, STARR researchers are revisiting the play concept of several Cretaceous volcanic fields in Texas, including Thrall, Chapman-Abbott, Dale, Sutil, Visto, and Elaine. Eric Radjef, Dr. Rob Reed, Dr. Bob Loucks, Bill Ambrose, Dr. Hongliu Zeng, Dr. Chris Ogiesoba, and Dr. Xun Sun introduced the different rock types that can be found as part of the reservoirs of the Balcones igneous province to a group of Texas operators interested in the play at a STARR event. Updates included core descriptions, seismic observations, and geochemical analysis of the produced oils. The aim is to update the geological models of the reservoir intervals and to unravel the mysteries of this enigmatic petroleum system. The event also conducted a fun field trip around the Austin area with stops at Pilot Knob and outcrops in the McKinney Falls State Park.
Future STARR activities this year will include participation in the upcoming International Meeting for Applied Geoscience and Energy (IMAGE) in Houston and a meeting of the Solution Mining Research Institute (SMRI) in San Antonio in the fall. Stay tuned!