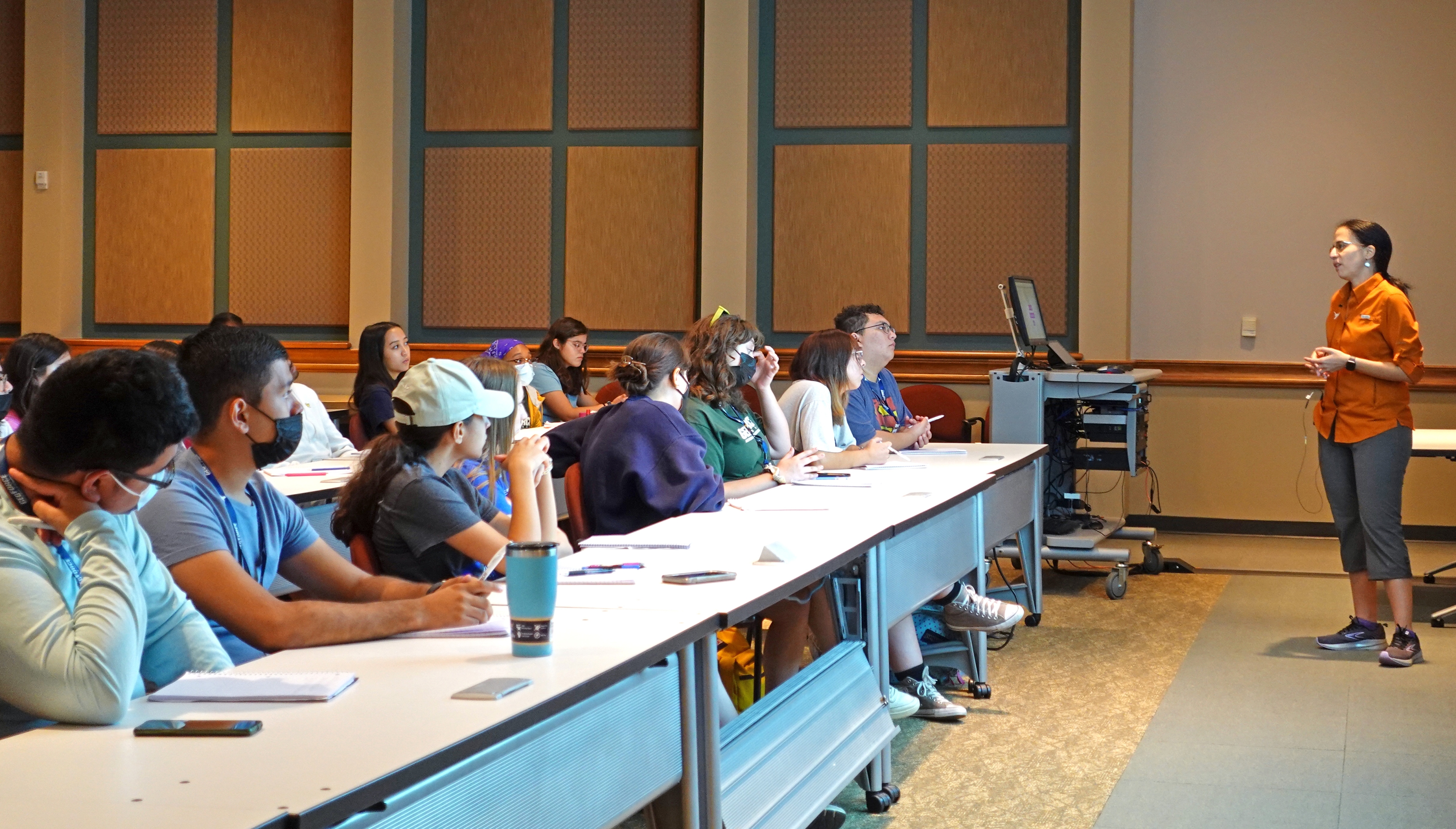 Recently, the Bureau of Economic Geology welcomed 62 students from the GeoFORCE 12th Grade Academy with presentations, encouragement, core viewing, and exploration of the Stoneburner Rock Garden and the new Mineral, Rock, and Fossil Gallery.
Lorena Moscardelli, a Research Scientist and leader of the State of Texas Advanced Resource Recovery (STARR) program at the Bureau, provided the students with a presentation titled, "Energy and Energy Transition." Research Scientist Associates Kelly Hattori, Mariana Olariu, and Lucy Tingwei Ko treated the students to a view into how they use core for their research by showing them core specimens from the Strawn and Wilcox groups. Students explored the rocks of Texas in the Stoneburner Family Rock Garden with guidance from Linda Ruiz McCall, Bureau Information Geologist and Resource Center Manager. Carson Werner, Publications Sales Associate, welcomed the students into the new Mineral, Rock, and Fossil Gallery and demonstrated its augmented reality sandbox.
The GeoFORCE program is a K-12 outreach program designed to increase the number and diversity of students pursuing STEM degrees and careers, especially in the Earth Sciences. Approximately 80 percent of GeoFORCE participants are members of minority groups. In 2015, President Obama presented the GeoFORCE Texas program with the Presidential Award for Excellence in Science, Mathematics, and Engineering Mentoring, the highest such honor from the United States government.
Over the years, many Bureau scientists have worked to support the GeoFORCE program, including Jeffrey Paine, Tiffany Caudle, Peter Flaig, C.M. Woodruff Jr., and Linda Ruiz McCall. The UT Jackson School of Geosciences' Doug Ratcliff, Sigrid Clift, and Jay Rainey were driving forces in the early development of the program, which continues to evolve to serve the changing needs of students and new challenges in geoscience.
It was once again a pleasure to host the GeoFORCE students at the Bureau. We applaud their hard work and determination, and we wish them all the best in their future.