Nanofluidics, Phenomenological Models, and Implications for Tight Rocks
October 23, 2015 8:55 AM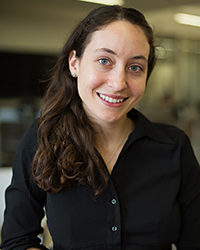 Shaina Kelly
PhD Candidate, Department of Petroleum and Geosystems Engineering, UT Austin
Shales are complex geologic media primarily composed of nanopores. Once considered virtually impermeable, these media have received attention in recent years due to their great energy and sequestration potential. Actuating and predicting fluid flow through shale matrix remains a formidable challenge. Micro- and nanofluidics (lab-on-a-chip devices) are a promising approach to studying transport anomalies in porous media, including shale, because they allow control and visualization of fluid phenomena and synthetic nanoconfinement geometry. Readily fabricated "reservoir-on-a-chip" devices enable testing of geometry- and nanoconfinement-related hypotheses alongside core data. This talk discusses the results of nanofluidic studies in different-sized nanochannels and first of their kind nano-network configurations ("shale-on-a-chip" devices); anomalous transport trends are revealed through imbibition. Phenomenological models are presented to match the nanofluidics data and include descriptions of effective diameter, effective capillary pressure, and effective liquid viscosity. The scalable implications of these findings and models for tight rocks and materials are discussed.
About Shaina Kelly
Shaina Kelly is a PhD Candidate in the Department of Petroleum and Geosystems Engineering at The University of Texas at Austin. She will be doing her dissertation defense later this fall. Shaina hold a B.S. degree in Environmental Engineering from the University of Florida and a M.S.E degree in Petroleum and Geosystems Engineering, also from UT Austin. Shaina is co-advised by Dr. Carlos Torres-Verdin and Dr. Matthew Balhoff and her research interests pertain to using nanofluidics and microscopy to study unconventional pore-scale transport phenomena. Nanofluidics is a developing field in porous media studies that may be can be used to better understand single and two-phase shale matrix flow, a topic of interest to the Advanced Energy Consortium.
**PARKING: Any visitor, without a UT Parking Permit, must obtain a PRC "Pay & Display" parking permit upon entering the campus. Please be sure to clearly display the permit on the dashboard of your vehicle. Link to maps and additional instructions: https://www.beg.utexas.edu/about/directions-and-maps.