Research Scientist Dr. Katherine Romanak joined the Bureau of Economic Geology in 2008 as part of the Gulf Coast Carbon Center to work on the geochemistry of groundwater and the vadose zone above geologic carbon storage site. She has an M.Sc. in geology from the University of Texas at Arlington with a specialty in igneous petrology, and a Ph.D. in geology from The University of Texas at Austin with a specialty in environmental geochemistry. Her research interests include geochemistry and isotope systematics of carbon cycling in the vadose zone and in freshwater aquifers. She is currently developing new techniques for environmental monitoring at geologic carbon storage sites, including the design and implementation of near-surface monitoring programs. She has used her scientific research to inform global and US policy-makers on the potential environmental outcomes of geologic carbon storage within the United Nations Framework Convention on Climate Change and the US Congress.
What are your current research activities?
Current research activities involve understanding physical and chemical processes in the vadose zone and, specifically, how these relate to environmental monitoring at geologic CO2 storage sites. Currently it is difficult to identify a geochemical signature in the vadose zone that could signal gas leakage from a geologic CO2 storage site to the surface. The fluctuating and complex nature of the near-surface environment, which is naturally CO2-rich, can mimic or mask a leakage signal. It is therefore important to be able to quickly and accurately assess whether leakage has occurred. This work involves researching how simple soil gas ratios and other simple geochemical parameters can be used to represent complex geochemical processes in the vadose zone.
What excites you the most about your current research?
I am excited because we are finding simple ways to unravel complex processes in the vadose zone that are leading to new and revolutionary insights in this field. I am also excited because the application of this research to geologic CO2 storage could contribute to hastening the implementation of carbon capture and storage (CCS), a technology that must be urgently deployed to meet global emissions reduction goals. Because we are involved in environmental monitoring, another important aspect is communicating the safety of CCS to the public.
What is the desired outcome of your research?
To use simple geochemical relationships to precisely define and ultimately quantify interrelated processes in the vadose zone, leading to new insights into how these processes affect and are affected by environmental changes; and to use these insights to increase the accuracy and ease of environmental monitoring at CCS sites.
What do you need in order to make your research efforts more successful?
We need funding to do more in-depth laboratory and modeling investigations to understand and quantify vadose zone processes and how they are geochemically represented. We also want to start conducting flux experiments in the field using a multitude of geochemical parameters, not just CO2, as is usually done.
What are your latest papers/publications, and what is most exciting to you about them?
Dixon and Romanak, 2015, is exciting because it shows how monitoring at CCS sites can be simplified. It also reviews global CCS monitoring protocols, which are currently being updated, and suggests how these protocols can be improved to facilitate simpler and more accurate monitoring practices.
Dixon, T., and Romanak, K.D., 2015. Improving monitoring protocols for CO2 geological storage with technical advances in CO2 attribution monitoring. International Journal of Greenhouse Gas Control, 41, p. 29–40.
Romanak et al., 2014, is exciting because it describes the first-ever public claim of leakage at an operational CCS site and how this claim was successfully addressed using our simple method. It also suggests that these newer and simpler environmental monitoring methods may lead to more accurate quantification in the event of leakage, a difficult task to perform.
Romanak, K.D., Wolaver, B., Yang, C., Sherk, G.W., Dale, J., Dobeck, L.M. and Spangler, L.H., 2014. Process-based soil gas leakage assessment at the Kerr Farm: comparison of results to leakage proxies at ZERT and Mt. Etna. International Journal of Greenhouse Gas Control, 30, p. 42–57.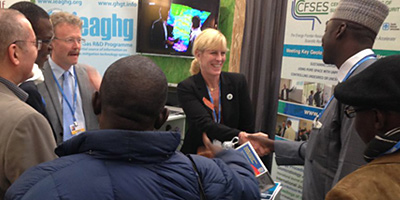 Who will benefit from your latest paper or publication?
CCS policy makers and regulators will benefit from Dixon and Romanak, 2015. Anyone interested in environmental monitoring at CCS sites will benefit from Romanak et al., 2014.
What was your most exciting past paper or publication, and why?
Romanak et al., 2012, was most exciting because it was the paper that introduced our new "process-based" method for monitoring geologic CO2 storage sites. It received a BEG 2015 publication award and was featured in an AGU Spotlight in EOS v. 93, no. 43. This paper is helping to change the way environmental monitoring is done at CCS sites.
Romanak, K.D., Bennett, P.C., Yang, C., and Hovorka, S.D., 2012. Process‐based approach to CO2 leakage detection by vadose zone gas monitoring at geologic CO2 storage sites. Geophysical Research Letters, 39 (15).
What types of research partners are you are seeking, and what expertise or skills do you believe would most benefit your research?
We want to partner with researchers who are experienced in microbiological cycling in soils and sediments and those with experience conducting laboratory experiments with soils and microbes. We also seek to partner with vadose zone modelers. We are seeking funding to develop a Raman-based sensor for implementing continuous process-based monitoring on an industrial scale.
What have been recent successes associated with your research (grants, awards, patents, etc.)?
We have two U.S. patents and one international patent pending for the process-based method and for a sensor to implement the method. We have two U.S. DOE STTR/SBIR Phase I grants for basic science research in complex vadose zone processes, and we hope to secure a Phase II grant soon.
What is the geographic location of your research?
Our research is global, and we seek to develop partners all around the world.