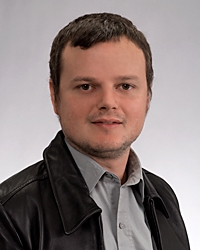 Bureau of Economic Geology
The University of Texas at Austin
P.O. Box X
Austin, Texas 78713-8924
Kenneth Edwards is a Stores Clerk I at the Bureau's Core Research Center. Kenneth moved to Austin in June 2008 after a stint at the University of North Texas. He has hobbies that include making music and being in friends' movies. "I'm what you can call a living room rock star, and my cat is my biggest fan," says Kenneth.