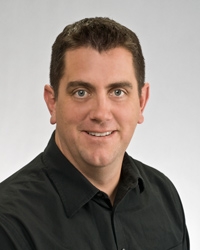 Bureau of Economic Geology
The University of Texas at Austin
P.O. Box X
Austin, Texas 78713-8924
Research Interests
Reservoir Characterization
Flow Modeling in Fractured Reservoirs
Porosity-Permeability Evolution
Education
Ph.D. Geology, Colorado School of Mines, 2002
M.S. Geology, The University of Texas at Austin, 1998
B.S. Geology, University of Wisconsin-Madison, 1993
Professional History
Structural Geologist, ConocoPhillips Subsurface Technology, Houston, Texas, 2002-2006
Geologic Consultant, iReservoir, Greenwood Village, Colorado, 2000-2002
Adjunct Professor, Colorado School of Mines, 2001
Hydrogeologist, RMT, Inc., 1994-97
Selected Publications
Zahm, C., Zahm, L., and Bellian, J. A., 2009, Integrated fracture prediction using sequence stratigraphy within a carbonate fault damage zone, Texas, USA, Journal of Structural Geology, doi:10.1016/j.jsg.2009.05.012.
Zahm, C. K., and Hennings, P. H., 2009, Complex fracture development related to stratigraphic architecture: challenges for structural deformation prediction, Tensleep Sandstone at the Alcova anticline, Wyoming: AAPG Bulletin, v. 93, no. 11, p. 1427–1446.
Kurtzman, D., El Azzi, J. A., Lucia, F. J., Bellian, J. A., Zahm, C., and Janson, X., 2009, Improving fractured carbonate-reservoir characterization with remote sensing of beds, fractures, and vugs: Geosphere, v. 5, no. 2, p. 126–139.
Hennings, P.H., B., Pujasmadi, H. Alley, C. Zahm, R. Reid, M. Enderlin, B. Lee, R. Kirschner, 2006, Relationship between active deformation, stress heterogeneity, and fracture permeability in the Suban gas field of South Sumatra, Indonesia: AAPG International Conference, Perth Australia.
Hennings, P.H., F. W. Krieger, D. Sanner, C. Zahm, R. Reid, T. Lozada, 2006, Bayu-Undan-modeling permeability enhancement in fault damage zones: AAPG International Conference, Perth, Australia.
Zahm, C.K., J. Bellian, P. Hennings, 2006, Impact of carbonate stratigraphy on fracture development in fault damage zones, central Texas, AAPG Annual Meeting, Houston, Texas.
Zahm, C.K., P. Hennings, M. Enderlin, 2005, Fracture prediction in fault damage zones using elastic dislocation models: a carbonate outcrop example from central Texas, International AAPG Meeting, Paris, France.
Hurley, N.F., C.K. Zahm, A. Raba'a, A. Karadavut, 2004, Fractured reservoir modeling in a foreland-basin anticline: From outcrop to flow simulation; AAPG Hedberg Research Conference— Carbonate Reservoir Characterization and Simulation: From Facies to Flow Units, El Paso, TX, p. 24.
Zahm, C.K., P.H. Hennings, E.A.Erslev, and N.F. Hurley, 2001, Beyond the cross-section: 3D deformation of classic foreland structures, Wyoming, Field Trip Guidebook, AAPG Field Trip #2; AAPG 2001 Annual Meeting, Denver, CO, 146 p.
Zahm, C.K. and P.H. Hennings, 2000, Kinematics of tear faulting in structurally attenuated strata, Thermopolis Anticline, Wyoming: Geological Society of America 2000 Abstracts with Programs, Reno, Neveda, p. 415.
Zahm, C.K., R. Marrett, and J.M. Sharp, Jr., 1998, Prediction of regional groundwater flow and permeability anisotropy using fractured outcrop exposures, Edwards aquifer, central Texas: Brahana, J. V., Eckstein Y., Ongley L. K., Schneider, R., Moore J. E. (eds.), In: Proceedings of the Joint meeting of the XXVIII congress of the International Association of Hydrogeologists and the Annual meeting of the American Institute of Hydrologists. 28; pg. 697-705.