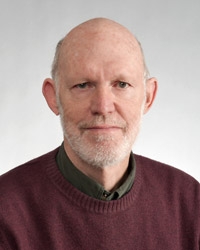 Bureau of Economic Geology
The University of Texas at Austin
P.O. Box X
Austin, Texas 78713-8924
Research Interests
Engineering/environmental geology
Geologic mapping/airphoto interpretation Rock and mineral resources
Education
B.A., Geology, Vanderbilt University, 1966
M.S., Geology, Vanderbilt University, 1968
Ph.D., Geology, The University of Texas at Austin, 1973
Professional History
Tennessee Division of Geology, 1968-1970
Bureau of Economic Geology, 1972-1983
Self-employed consulting geologist, 1983-present
Senior Lecturer, Department of Civil Engineering, U.T. Austin, 2001-present
Selected Publications
Woodruff, C.M., Jr., and L.P. Wilding, 2008, Bedrock, soils, and hillslope hydrology in the Central Texas Hill Country, USA: implications on environmental management in a carbonate-rock terrain: Environmental Geology, v. 55, no. 3, p. 605-618.

Woodruff, C.M., Jr., 2007, Beyond outcrops and cores—bridging the gulf between geologists and civil engineers in Austin, Texas: Austin Geological Society Bulletin, v. 3, p. 48-53.

Abbott, P.L., and C.M. Woodruff, Jr., 1986, The Balcones Escarpment: Field-trip guidebook published for Geological Society of America annual meeting, San Antonio, Texas, 200 p. Available on-line: www.lib.utexas.edu/geo/balcones_escarpment/balconesescarpment.html

Woodruff, C.M., Jr., and P.L. Abbott, 1979, Drainage-basin evolution and aquifer development in a karstic limestone terrane, south-central Texas, USA: Earth Surface processes, v. 4, p. 319-334.
Honors and Awards
Distinguished Service Award, Austin Geological Society, 1997
Distinguished Service Award, City of Austin Community Collaboration Awards, 2000
Distinguished Service Award, Gulf Coast Association of Geological Societies, 2006
Elected to Honorary Membership, Austin Geological Society, 2001