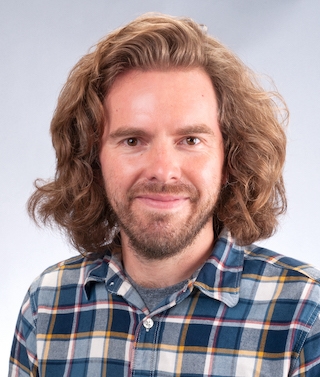 Bureau of Economic Geology
The University of Texas at Austin
P.O. Box X
Austin, Texas 78713-8924
Carson graduated from Boston University in 2003 with a degree in Earth sciences. He came to the Jackson School at the University of Texas at Austin to work towards a master's degree doing geochemistry under Professor Jay Banner. Though he did not complete said degree, he enjoyed his time at the university. Eventually, Carson went on to work at Central Market as a produce buyer for over a decade. He is happy to share produce related knowledge and field any questions regarding exotic fruit and vegetables, seasonality, ripeness...you name it. He is a big fan of gold kiwis and thinks pears are underrated. He is also an artist who does woodcut printmaking, frequently participating in the annual PrintAustin printmaking festival. When it's not 105°F, he likes to bike (road and mountain) and run. He has a wife and 7-year-old son who talked his family in to becoming vegetarian two years ago when he found out they had to kill the animals to get meat. Also part of the family is a dog that is ridiculously named Cobra, as he had suffered a snakebite when he was found. Carson is excited to be here at the Bureau.