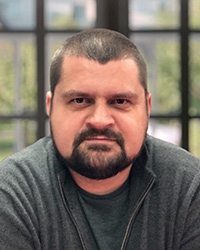 Bureau of Economic Geology
The University of Texas at Austin
P.O. Box X
Austin, Texas 78713-8924
Research Interests
Fluids in diagenetic and hydrothermal systems
Fluid inclusion techniques
Fracture analysis
Structural diagenesis
Unconventional hydrocarbon reservoirs
Raman spectroscopy
Education
Ph.D. Geosciences, Virginia Tech, December 2008
M.Sc. Geosciences, Virginia Tech, May 2005
M.Sc. Geology, University of Bucharest, Bucharest, Romania, June 2002
B.Sc. Geology-Geography, Babeş-Bolyai University, Cluj-Napoca, Romania, June 2001
Professional History
Postdoctoral Fellow, Bureau of Economic Geology, Jackson School of Geosciences, The University of Texas at Austin (Dec 2008-Nov 2011)
Graduate Teaching/Research Assistant, Department of Geosciences, Virginia Tech (2003-2008)
Sample preparatory and microtechnical laboratory, Department of Petrology and Geochemistry, Eötvös Loránd University, Budapest, Hungary (2002-2003)
Selected Publications
Fall A., Ukar E., Laubach S.E. (2016) Origin and timing of Dauphiné twins in quartz cement in fractured sandstones from diagenetic environments: Insight from fluid inclusions. Tectonophysics, v. 687, p. 195-209, DOI:/10.1016/j.tecto.2016.08.014.

Laubach S.E., Fall A., Copley L.K., Marrett R., Wilkins S.J. (2016) Fracture porosity creation and persistence in a basement-involved Laramide fold, Upper Cretaceous Frontier Formation, Green River Basin, U.S.A. Geological Magazine, v. 153, p. 887-910, DOI:10.1017/S0016756816000157

Hooker J.N., Larson T., Eakin A., Laubach S.E., Eichhubl P., Fall A., Marrett R. (2015) Fracturing and fluid-flow in a sub-décollement sandstone; or, a leak in the basement. Journal of the Geological Society, London, v. 172, p. 428-442, DOI:10.1144/jgs2014-128

Fall A., Eichhubl P., Bodnar R.J., Laubach S.E., Davis S.J. (2015) Natural hydraulic fracturing of tight-gas sandstone reservoirs, Piceance Basin, Colorado. GSA Bulletin, v. 127, no. 1/2, p. 61-75, DOI:10.1130/B31021.1.

Gale J.F.W., Laubach S.E., Olson J.E., Eichhubl P., Fall A. (2014) Natural fractures in shale: a review and new observations. AAPG Bulletin, v. 98, no. 11, p. 2165-2216, DOI:10.1306/08121413151.

Bodnar R.J., Azbej T., Becker S.P., Cannatelli C., Fall A., Severs M.J. (2013) Whole Earth geohydrologic cycle: From the clouds to the core: The distribution of water in the dynamic Earth system, in Bickford, M.E., ed., The Web of Geological Sciences: Advances, Impacts, and Interactions: Geological Society of America Special Paper 500, p. 431-461.

Fall. A., Eichhubl, P., Cumella, S. P., Bodnar, R. J., Laubach, S. E., Becker, S. P., 2012, Testing the basin-centered gas model using fluid inclusion observations: southern Piceance Basin, Colorado. AAPG Bulletin, v. 96, p. 2297-2318.

Fall, A., Tattitch, B., and Bodnar, R. J., 2011, Combined microthermometric and Raman spectroscopic technique to determine the salinity of H2O–CO2–NaCl fluid inclusions based on clathrate melting. Geochimica et Cosmochimica Acta, v. 75, p. 951-964.

Fall, A., Rimstidt, J. D., and Bodnar, R. J., 2009, The effect of fluid inclusion size on determination of homogenization temperature and density of liquid-rich aqueous inclusions: American Mineralogist, v. 94, p. 1569–1579.

Becker, S. P., Fall, A., and Bodnar, R. J., 2008, Synthetic fluid inclusions. XVII. PVTX properties of high salinity H2O-NaCl solutions (>30 wt% NaCl): application to fluid inclusions that homogenize by halite disappearance from porphyry copper and other hydrothermal ore deposits: Economic Geology, v. 103, p. 539–554.

Fall, A., Bodnar, R. J., Szabó, Cs., and Pál-Molnár, E., 2007, Fluid evolution in the nepheline syenites of the Ditrău Alkaline Massif, Transylvania, Romania: Lithos, v. 95, p. 331–345.
Awards
2016 – Tinker Family BEG Best Publication Award (2016) - for publication: Fall A., Eichhubl P., Bodnar R.J., Laubach S.E., Davis S.J. (2015) Natural hydraulic fracturing of tight-gas sandstone reservoirs, Piceance Basin, Colorado. GSA Bulletin, v. 127, no. 1/2, p. 61-75

2011 – President's Certificate for Excellence in Presentation (co-author)
American Association of Petroleum Geologists Energy Minerals Division – AAPG Annual Meeting, Houston
2011 – Certificate of Recognition, Excellence in Technical Presentation (co-author)
Society for Sedimentary Geology (SEPM) – AAPG Annual Meeting, Houston
2008 – Geosciences Graduate Research Fellowship, Department of Geosciences, Virginia Tech, Blacksburg, VA
2006 – C.G. Tillman Teaching Excellence Award, Department of Geosciences, Virginia Tech, Blacksburg, VA
Professional Societies
Geochemical Society
Society of Economic Geologists
American Association of Petroleum Geologists
American Geophysical Union