Bureau's Mudrock Systems Research Laboratory Hosts Annual Meeting
April 23, 2020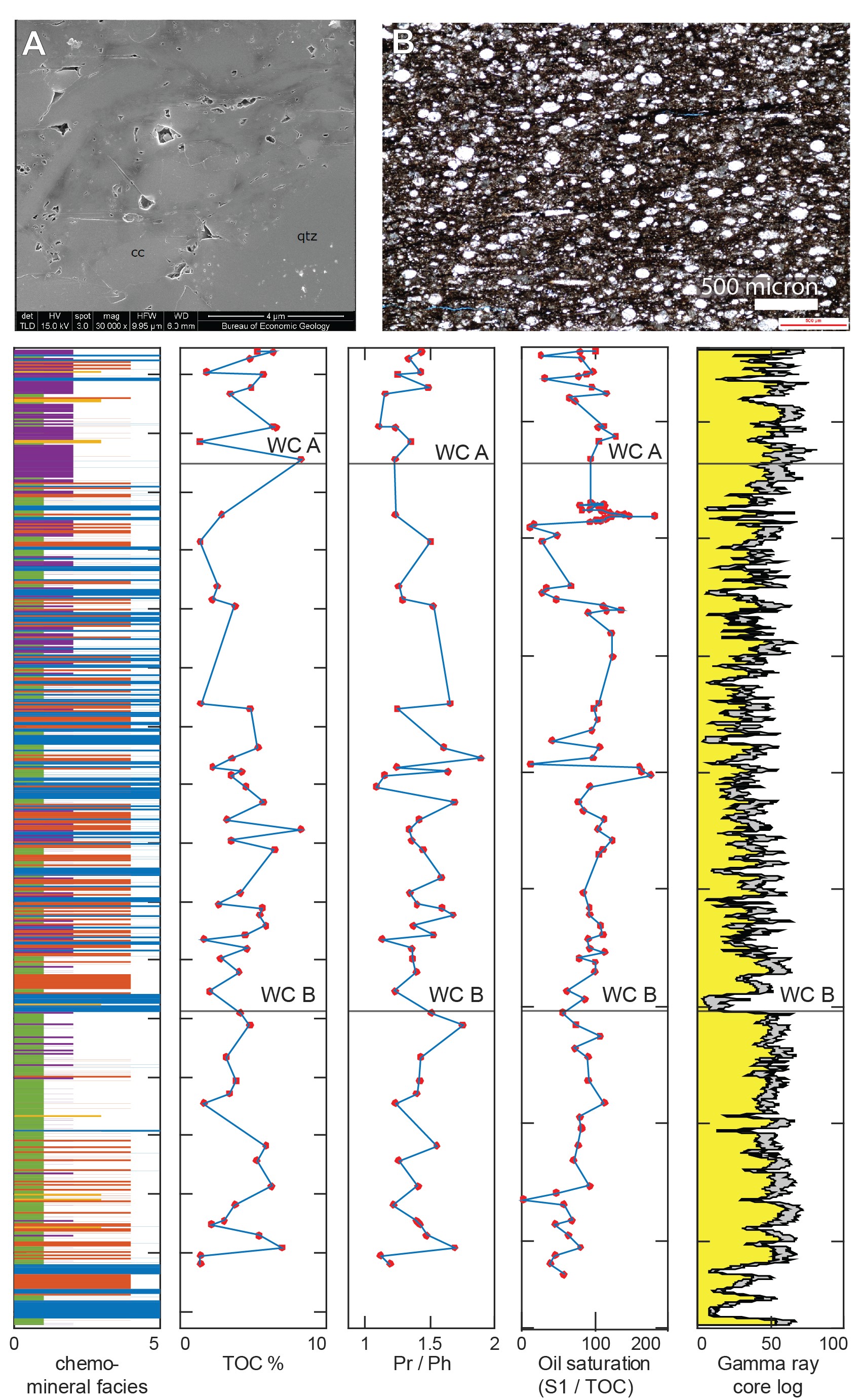 The Bureau of Economic Geology's Mudrock Systems Research Laboratory (MSRL) recently hosted their annual consortium meeting. Due to travel restrictions related to the COVID-19 virus, MSRL researchers adapted to web-based video conferencing and hosted a 2-day technical meeting and 1-day short course online. Over the course of the meeting, more than 140 participants from MSRL member companies across 4 different countries logged on.
The MSRL focuses on integrative studies of rock and fluid attributes in mudrock systems. Major research focuses include Wolfcampian and Leonardian deposits in the Permian Basin, the Eagle Ford Shale in Texas, and the Vaca Muerta Formation. MSRL researchers and postdocs provided technical talks on the geology and geochemistry of these study areas.
Key highlights from this year's technical session included new Permian Basin research integrating lithologic, thermal maturity, and oil- and water-saturation studies and organic matter source typing. Talks were led by MSRL researchers Dr. Toti Larson, Dr. Tongwei Zhang, Dr. Robert Loucks, Dr. Lucy Ko, Dr. Farzam Javadpour, Dr. Sheng Peng, Dr. Robert Reed, and Dr. Sun Xun; Reservoir Characterization Research Laboratory (RCRL) collaborators Dr. Charles Kerans and Dr. Xavier Janson; and State of Texas Advanced Resource Recovery (STARR) program postdoc Junwen Peng. The presentations included new research in the Eagle Ford Shale and Austin Chalk; a technical session on porosity, permeability, and fluid-flow modeling (with MSRL student Hong Zuo); a machine-learning project introducing new methods for identifying pores in SEM images (with Ken Ikeda from The University of Texas Petroleum and Geosystems Engineering Department); and a special session on the Vaca Muerta (with Cornel Olariu and Ron Steel from the UT Department of Geological Sciences).
The 1-day mudrocks short course, hosted by MSRL researchers, covered the fundamentals necessary to characterize mudrock systems and included a presentation on sediment gravity flow deposits from guest speaker Dr. David Mohrig, professor and Associate Dean for Research at the Jackson School of Geosciences.
Although the online annual meeting format limited the ability for face-to-face networking and interaction, it had the advantage of allowing broader participation from member organizations that do not normally send as many staff to attend in person. By all accounts, the MSRL meeting was a tremendous success. For more information about the MSRL's research and how to become a member, contact Toti Larson.