Dr. Sergey Fomel to Conduct SEG Lecture This Week
April 20, 2020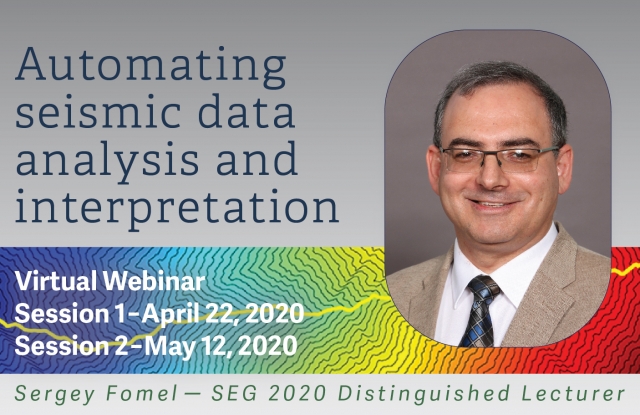 Society of Exploration Geophysicists (SEG) Spring 2020 Distinguished Lecturer Sergey Fomel will host a webinar this Wednesday evening as part of the lecture series. His talk, "Automating seismic data analysis and interpretation," will explore recent developments in artificial intelligence and machine learning that can automate different data analysis tasks. Dr. Fomel will discuss the quest for automation by tracking the development of automatic picking algorithms—from velocity picking in seismic processing to horizon picking in seismic interpretation.
Dr. Fomel is the Wallace E. Pratt Professor of Geophysics at The University of Texas at Austin and the director of the Texas Consortium for Computational Seismology (TCCS). At UT Austin, he is affiliated with the Bureau of Economic Geology, the Department of Geological Sciences, and the Oden Institute for Computational Engineering and Sciences.
Session 1 of Dr. Fomel's lecture will be held from 8:00 to 9:00 PM (central time) on Wednesday, April 22, 2020. To participate in this week's webinar, please register here. Session 2 of the lecture will be presented on Tuesday, May 12.