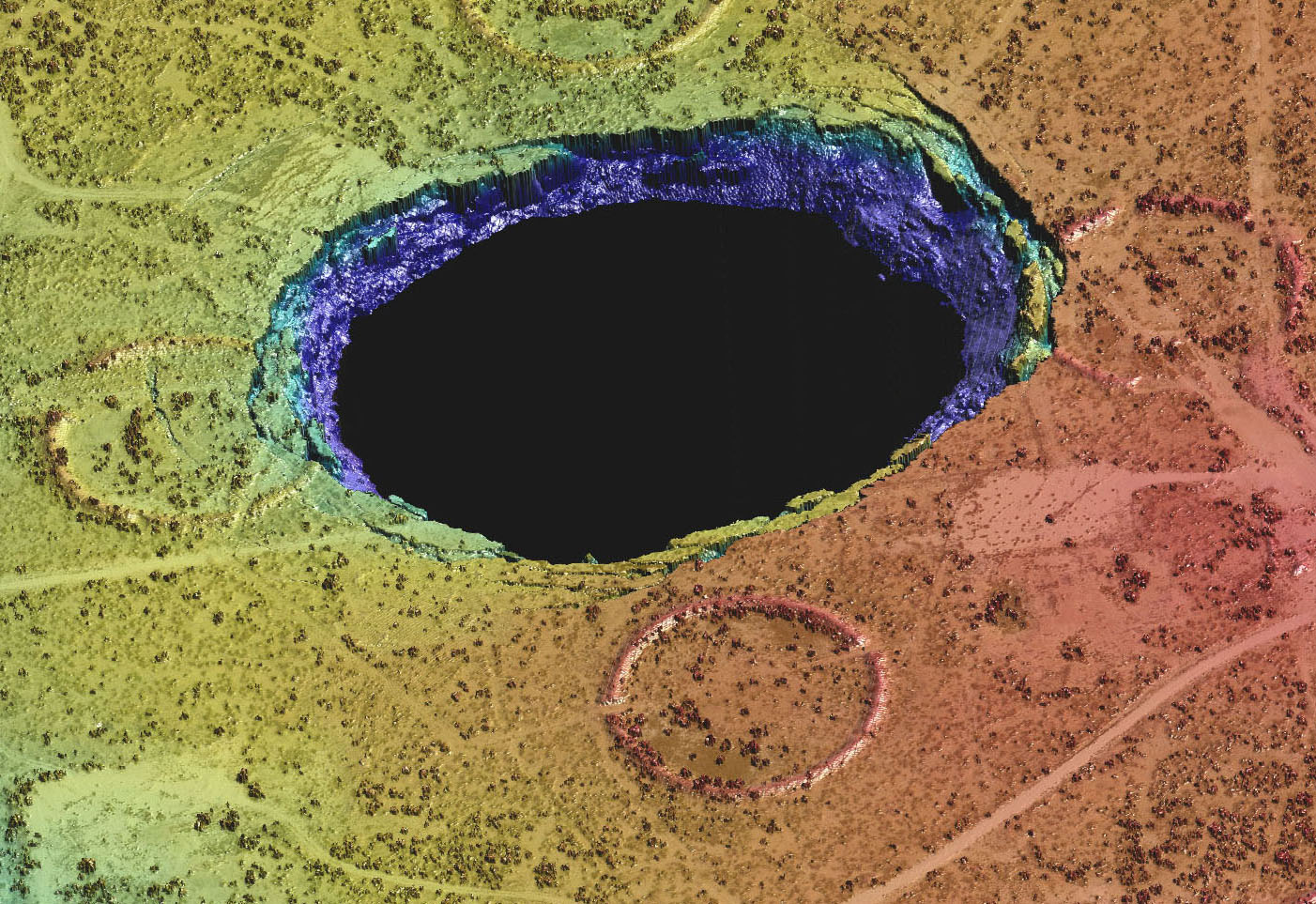 We think of the Earth as mostly benign and unchanging, but geologists recognize that our planet is active on timescales ranging from seconds to millions of years. Some of these active processes constitute threats to humans and their homes, businesses, transportation modes, and recreational activities. Together these threats are called geologic hazards, commonly abbreviated as geohazards. Texas geohazards include those related to storms, earthquakes, coastal faulting and subsidence, coastal erosion, landslides and rockfalls, and sinkholes. We employ a variety of instruments and tools to better understand geohazards and minimize their impact on society.
At the Bureau of Economic Geology's Near Surface Observatory, researchers are employing airborne lidar and geophysical surveys, borehole logging, near-surface geophysical methods, and geological mapping to assess potential for sinkhole formation and growth, determine movement across surface faults, characterize landslides and rockfalls, delineate surface and groundwater salinization, and assess the coastal impact of tropical cyclones and monitor recovery of beaches and dunes.
Work is beginning on a comprehensive atlas of geologic hazards affecting Texas, which will first manifest as a series of Bureau-hosted web pages then evolve into an atlas in print and electronic formats.
---
Name of Research Program or IA: Near Surface Observatory
Date of project start: 2019
Term of project: Ongoing
Project PI(s): Jeffrey G. Paine
Other key personnel: Charles M. Woodruff, Jr., Tiffany Caudle, Kutalmis Saylam, John Andrews, Lucie Costard
Principal information contact:
Jeffrey G. Paine
jeff.paine@beg.utexas.edu
Telephone: 512-471-1260
Fax: 512-471-0140
Funding source(s): State of Texas Advanced Resource Recovery (STARR) Hazards, Texas Geologic Hazards Fund, Texas General Land Office
Other key (institutional or business) partners/collaborators: None
Geographic area(s) of study: Statewide
General discipline(s) of study: Geologic hazards
Keywords (for search returns): Sinkholes, growth faults, subsidence, hurricanes, tropical storms, coastal erosion, earthquakes
---