"Market Outlook 2020 and Role of Oil Field Services in Energy Transition"
December 13, 2019 9:00 AM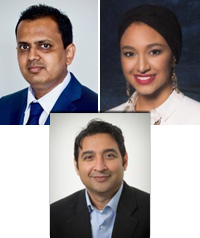 Yasir Kirmani, Azizah Mohmed, and Preshit Gawade
Baker Hughes Oilfield Services
Baker Hughes Oilfield Services (OFS) Market Intelligence team will present the Market Outlook for 2020. The focus will be on the Macro-environment and its impact on E&P activity and spend. The view will offer insights on both domestic and international market dynamics and its implications for service providers. Additionally, the OFS view on energy transition will be given along with its impact on service providers. Finally, a brief showcase of capabilities (tools, market platform access, etc.) will be presented with the opportunity to seek collaboration with UT-GCCC.
Dr. Preshit Gawade is a Senior Manager-Strategic Marketing at Baker Hughes. He is a constant learner and holds reputation of being scrappy. He is an expert in product development / commercialization, portfolio management, data analytics, risk planning, financial analysis and energy transition. 10+ years he worked with several industry partners (ExxonMobil, Caterpillar, Babcock & Wilcox, Dorf ketal, Merichem) and Govt. entities (Dept. of Energy, Ohio Coal Office, NSF). He is a six sigma and holds an MBA from University of Texas, Austin and PhD in Chemical Engineering from Ohio State University.
Azizah Mohamed is an Oilfield Services Market Intelligence Leader specializing in market sizing, competitor analysis, customer landscape, and industry trends. She has over eight years of experience at Baker Hughes spanning a multitude of product lines in R&D, research, digital processes, and strategic marketing. Azizah has an undergraduate degree in Mechanical Engineering and a graduate degree in Subsea Engineering, both from the University of Houston. A Houston-native, you can often find her exploring the city and discovering authentic restaurants.
Yasir Kirmani is a VP of OFS Strategic Marketing, Baker Hughes, responsible for OFS strategy development, advising market trends, portfolio assessment and business planning. He has over 15 years experience in corporate strategy, M&A, investor relations, finance and market intelligence. He held various positions at Baker Hughes the past 10 years with increasing responsibilities. He holds an MBA in Strategy & Finance from Rice University and BBA in Management Information Systems from University of Houston.