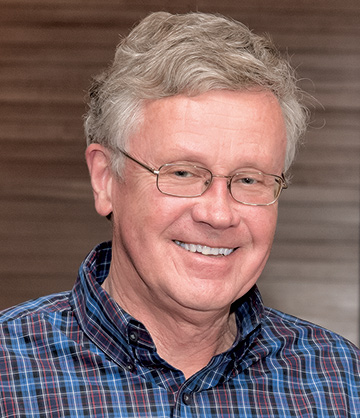 Dr. Stephen Craig Ruppel passed away peacefully at his home in Austin, Texas, on October 21, 2019. Steve was a Senior Research Scientist at the Bureau of Economic Geology who had more than 40 years of research experience in the sedimentological and geochemical characterization of carbonate and mudrock reservoir systems.
Steve was born in Wabash, Indiana, on January 22, 1946. He obtained his B.S. degree in geology from the University of Illinois, Urbana, and an M.S. in geology from the University of Florida, Gainesville, where his Master's thesis dealt with the conodont biostratigraphy of Mississippian rocks in northern Alabama. He then worked as a wellsite geologist for Chevron Oil Co. in New Orleans, focusing on Miocene and Cretaceous reservoirs in offshore Louisiana and Paleozoic carbonate rocks in the Appalachians. His experiences with carbonate reservoirs led him to study carbonate systems while at the University of Tennessee, Knoxville, where he received his Ph.D. in 1979, based on research on the facies and depositional environments of Middle Ordovician platform carbonates in Tennessee. He continued his research on Middle Ordovician carbonates in Quebec during a post-doc stint at McGill University, Montreal.
Steve joined the Bureau of Economic Geology in 1981 where, until 2009, his research centered on Paleozoic carbonate systems and reservoirs in Texas. He conducted research on nearly every carbonate depositional system in the Permian Basin, with special focus on the Lower Permian Leonardian Clear Fork Group and the Guadalupian San Andres and Grayburg Formations. For 10 years, Steve shared his expertise with UT-Austin students while teaching, along with Dr. William L. Fisher, the carbonate section of a Department of Geological Sciences course on Advanced Reservoir Geology. He also supervised seven Master's students and one Ph.D. candidate.
In 2009, Steve formed the Bureau's Mudrock Systems Research Laboratory as Principal Investigator and program leader. He conducted research in many North American mudrock systems, and his current research focused on two unconventional mudrock reservoir systems: the Lower Permian Wolfcamp Series in the Delaware Basin segment of the Permian Basin, and the Upper Cretaceous Eagle Ford Formation of the South Texas shelf.
Steve wrote more than 170 papers and reports and a similar number of abstracts on the stratigraphy, sedimentology, and geochemistry of Paleozoic and Mesozoic carbonate and mudrock systems. Most recently, a book that he edited, Anatomy of a Paleozoic Basin: The Permian Basin, USA, Volume 1, copublished by the Bureau (as RI 285-1) and AAPG (as Memoir 118), was issued in Spring 2019, and Volume 2 was in production at the time of his death.
Steve belonged to several professional societies, including AAPG, SEPM (Society for Sedimentary Geologists), the International Association of Sedimentologists, and the Austin and West Texas geological societies. He served on many Bureau and professional society committees, and he was a co-editor of the 2002 GCAGS Transactions.
During his long Bureau career, Steve received numerous awards, including the 2002 Wallace E. Pratt Award for Excellence of Presentation in the AAPG Bulletin, the 2001 Distinguished Member Award from the West Texas Geological Society, the 2006 Levorsen Award for the best paper presented at the Southwest Section of AAPG, the 2011 A. I. Levorsen Award for the best paper given at GCAGS, and the 2010 Jackson School of Geosciences Outstanding Research Award.
When not immersed in geological studies, Steve spent his spare time traveling, biking, golfing, and reading history. Steve is survived by his wife Gera and his sons Erik and Mark. He is greatly missed by all of us here at the Bureau.