3E Research Symposium Highlights Breadth of Bureau Science
October 29, 2019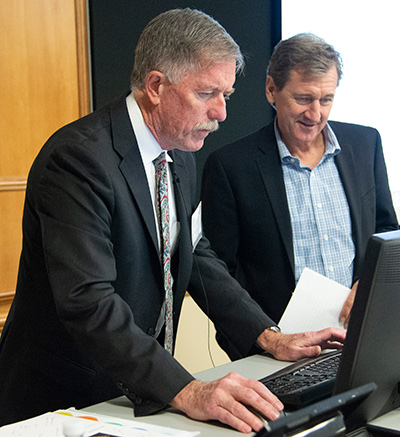 Industry and agency representatives from organizations large and small recently gathered at the Bureau of Economic Geology for its first 3E Research Symposium. The day of information sharing and networking illustrated how the Bureau's innovative research stems from the confluence of energy, the environment, and the economy—the "3E's."
The day's keynotes included thought-provoking talks by energy theorist Mark Mills of the Manhattan Institute, Jim Reilly, director of the U.S. Geological Survey, and Bureau Director Scott Tinker, whose luncheon keynote touched on his current work addressing global energy poverty.
Bureau researchers impressed guests with presentations of their groundbreaking research. Breakout-session topics included the Delaware Basin, carbon capture and storage, water resources, and analytics and modeling applications. Individual talks covered intriguing subjects ranging from mudrocks to clastics, Alaska initiatives to subsurface nanotechnology, and earthquake studies to energy economics.
Research posters, created and displayed by Bureau researchers and students to share recent projects, allowed symposium participants to ask in-depth questions and discuss key issues directly with the research authors.
The 3E Research Symposium achieved its objective of bringing people from varied organizations together to learn about and discuss the broad array of environmental, energy, and economics research being successfully undertaken at the Bureau of Economic Geology.