The Brookian Foreland Basin of North Alaska: Technology Driven Renaissance of a Petroleum Super Basin
October 25, 2019 9:00 AM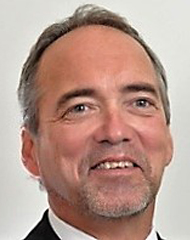 Edward A. Duncan, DBA
Lecturer – Jackson School of Geosciences
The University of Texas at Austin
The North Slope of Alaska is a legendary petroleum producing province. Three major petroleum systems have delivered more than 100 Billion barrels of oil in place across the central North Slope region. While the exploration history for petroleum dates to pre1950, the basin opening discovery of the Prudhoe Bay Field did not occur until 1967. Additional discoveries followed quickly with the Kuparuk River Field in 1969 and multiple smaller oil fields added periodically up until 1990. From 1990 until 2015, the North Slope recorded no significant new field discoveries having been labeled an exhausted basin with little to offer in the sense of volumetric or commercial materiality from new fields.
The overarching driver of the major petroleum systems in North Alaska are the Brookian Foreland basin depositional sequences filling the basin from west to east. Foreland basin fill provided the burial to deliver the thermal stress needed to mature the basin's source rocks but why no major discoveries in the foreland basin fill? By the mid 80's, at a play level, the Brookian foreland fill checked every box – source, reservoir and seal all proven present and effective but where is the oil accumulating?
Beginning in the 2010, a small number of technically astute, aggressive exploration companies began acquiring regionally extensive 3D seismic data sets. Classical seismic sequence analysis had identified multiple occurrences of "systems tract" level areas of interest across an expansive portion of the Central North Slope. These new 3D data sets were aimed at an emerging source reservoired play in the Triassic Shublik Formation and expanding the geophysical toolkit to interrogate the seismic data for lithology and pore fluid prediction in conventional plays using AVO and Inversion modeling. Focused drilling of lowstand shelf margin systems and lower slope to basin floor fan complexes ensued in 2015. To date, at least 6 new field discoveries in conventional plays have been documented with more, almost certainly, to come. Cumulatively, the last 4 years of exploration have added in excess of 7 Billion barrels of oil in place. Development planning is well underway and the production renaissance in North Alaska is here.