Bureau Hosts 20th Annual Earth Science Week Career Day
October 18, 2019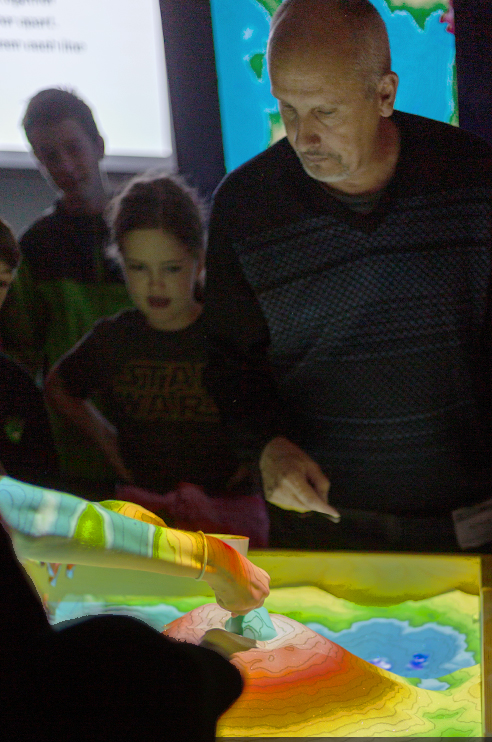 The Bureau of Economic Geology joined with area geoscience professionals to host the 20th Annual Austin Earth Science Week Career Day on October 11. The Earth Science Week program encourages students to discover the potential of careers in earth sciences, inspires Earth stewardship, and motivates geoscientists to share their knowledge of and enthusiasm for our planet. The Austin program embraced the national Earth Science Week theme, "Geoscience Is for Everyone," and the 240 participating students from Bastrop Middle School, Cedar Creek Middle School, Homegrown Learners, Sunset Valley Elementary, and Thrall Middle School reflected a diverse and enthusiastic audience.
Students were welcomed by Bureau Senior Research Scientist Jeffrey Paine, Equinor Scientist Laura Zahm, and Event Chair Linda McCall. Participants were engaged by presentations, demonstrations, and hands-on activities showcasing exploration geology, hydrology, seismology, geophysics, paleontology, geologic mapping, meteorology, planetary and solar system studies, gems and minerals, archaeology, and engineering, led by approximately 65 geoscience professionals from the U.S. Geological Survey, Texas Water Development Board, City of Austin, Texas Department of Transportation, Lower Colorado River Authority, KOKE FM radio, Texas Commission on Environmental Quality , and others. Many thanks to all the volunteers and to financial sponsors Equinor (underwriting sponsor), Enverus (major sponsor), Austin Geological Society (sponsor), and the Subsurface Library (sponsor).
In recognition of the 20th anniversary of the event, the Bureau of Economic Geology team built an augmented reality (AR) sandbox. Students learned about topographic maps while playing with the AR sandbox. The AR sandbox will reside in the Bureau's Resource Center and will be used during future Earth Science Week Career Days.