"Commercializing Research at UT Austin, The Value of Data"
September 13, 2019 9:00 AM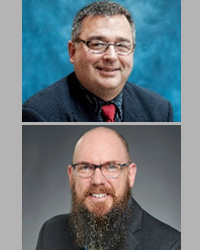 Les Nichols, Interim Director
Bob Villwock, PhD, Software and Copyrights Licensing
Office of Technology Commercialization
The University of Texas at Austin
Sometimes in the search for truth, University research generates results that external entities active in the global marketplace perceive as valuable. The Board of Regents of the UT System has established policies for enabling the efficient and effective management of such intellectual property through the operation of technology transfer offices at each System institution. The UT Austin OTC has established internal processes that allow for the capture, evaluation, protection, and commercial transfer of UT Austin – owned IP. The office is continually improving processes to enhance performance with the goal of providing better service to the faculty across a broad spectrum of research areas. There is a growing interest from industry in accessing research data relevant to the markets they serve. The UT Austin OTC is working to enhance processes to allow UT Austin researchers to access these growing commercial opportunities.