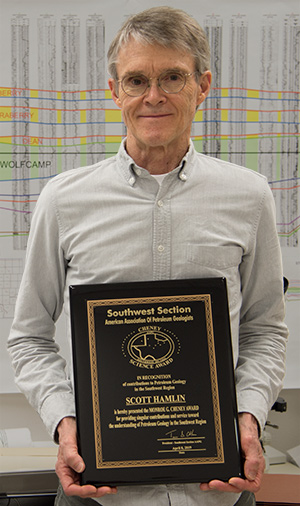 The Bureau of Economic Geology is very proud to announce that Dr. H. Scott Hamlin was recently honored with the Monroe G. Cheney Science Award by the Southwest Section of the American Association of Petroleum Geologists at its Annual Convention in Irving, Texas.
Hamlin is an energy geologist and a hydrogeologist whose primary research interests are stratigraphy, depositional systems, and sedimentology. Most recently, he has used geophysical logs calibrated with well cores and outcrops to construct regional stratigraphies and map lithofacies for several unconventional oil plays, including the Wolfberry and Wolfbone Plays in West Texas and the Bakken Play in North Dakota and Montana. He has also mapped groundwater aquifers throughout Texas and Louisiana.
The Monroe G. Cheney Science Award is given "for singular contributions to and achievements in the science of petroleum geology of the southwest region." Prior Bureau recipients include Jerry Lucia (2009), Bob Hardage (2006), and Frank Brown (1990). Said Hamlin, "To say that I was surprised to receive this award is a huge understatement!"
Please join all of us at the Bureau in congratulating Dr. Scott Hamlin!