120 Houston Students Participate in HRC "Rock Lab"
April 1, 2019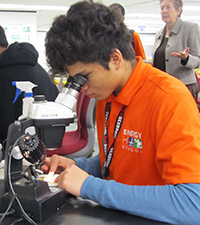 In March, 120 students from the Energy Institute High School in Houston visited the Bureau of Economic Geology's Houston Research Center to participate in a "Rock Lab." Using hand lenses and binocular microscopes, students examined mineral specimens; igneous, sedimentary, and metamorphic rock samples; whole core; and well cuttings. Geologists from the Houston Geological Society (HGS) and the Bureau interacted with students at various stations while the students learned to identify different types of rocks and asked questions regarding careers in geology.
The all-day Rock Lab was jointly sponsored for the third year by the Independent Petroleum Association of America (IPAA), the HGS, and the Bureau's Houston Research Center. The IPAA, HGS, and Bureau have provided the lab to over 450 students who attend the IPAA's High School Petroleum Academies in Houston, which are located at the following public Houston ISD high schools: Energy Institute High School, Milby High School, Young Women's College Preparatory Academy, and Westside High School.