"The Gunn Graben: Geology, Engineering, and the missing key, Geomechanics"
November 10, 2017 9:00 AM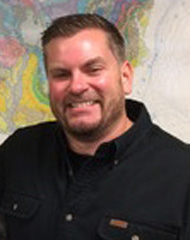 Nicolas O. Brissette
Geoscientist
A deep drill test took place in 1989 which discovered an extensive gas charged Pennsylvanian clastic interval on the Matador Arch in north Texas. Unknown at the time, this exploration well stepped off into an elongate, left-lateral, asymmetric graben, where the eventual total vertical depths of these wells reached over 15,000 feet. Rotated fault blocks with several thousand feet of throw to the adjacent fault block, resulted in the development of both positive and negative flower structures where bedding planes dipped upwards to seventy degrees. These fault planes act as the compartmentalization mechanism trapping tight gas within these clastic reservoirs and therefore reaching the targeted total depth a true drilling challenge. However, by not reaching the targeted total depths, this project left unknown numerous clastic packages undrilled within the Pennsylvanian Bend interval because of mechanical failures within the wellbore.
In 2014, Schlumberger proposed a drilling geomechanics solution which involved integrating Schlumberger's Petrel and Stonefish software and Schlumberger's geomechanics expertise from their Petro-Technical Services along with K&M Technology drilling expertise coupled with K&M's torque and drag software to manage these drilling engineering issues. To understand the effect of geomechanics on the wellbore, a mechanical earth model (MEM) was constructed via Stonefish which provided a coherent view of the earth stresses and mechanical properties of the rock within the wellbore. The MEM was then complemented with a drilling engineering analysis performed by K&M Technology to more fully understand how the wellbore was behaving while drilling. By applying these datasets and studies, this allowed for best a fit approach in drilling practices and parameters to increase drilling efficiency and the likelihood of obtaining success within this deep dynamic graben by reaching the targeted total depths.
This combined solution revealed the mud weight used to drill these wells was too low from indicators such as connection gas, swabbing, splintered elongate shales, and cavings. It was then recommended to increase the mud weight and adjust the mud rheology parameters based on K&M's hydraulics analysis to prevent further wellbore instabilities. This solution also changed how Gunn Oil conducted its drilling operations by contracting a 24-hour mud service to monitor and record all mud rheology readings and cuttings. This first proactive step led to additional studies on PDC bit and cutter failure, BHA modeling, and downhole destructive drill string vibrations. Subsequent drilled wells allowed Gunn Oil to reach their targeted total depths by utilizing these technologies and learned methods through understanding the well bore's mechanical properties to efficiently drill "rifle barreled" well bores to over 15,000 feet. Furthermore, subsequent MEMs performed throughout the Gunn Graben revealed how the earth's principle stresses varied due to the graben's highly faulted, broken, and compartmentalized structure, which not only aided in future drilling optimization, but also in sand body completions and hydraulic fracturing design.

About the author:
Nicolas O. Brissette is a geoscientist based in Edmond, Oklahoma. He is widely experienced in upstream facets including exploration and development geology, well site geology, geomechanics, and drilling engineering. After graduate school, he immediately hired on with Gunn Oil Company in Wichita Falls, Texas where he worked with wildcatter R.D. Gunn for ten years. Nic became fascinated with the unknown and the risk of exploration by watching and learning from his mentor. He is currently a member of the American Association of Petroleum Geologists (AAPG), the Division of Professional Affairs (DPA), and currently is the Southwest Section AAPG President. He also belongs to the National AAPG Continuing Education Committee, the American Rock Mechanics Association (ARMA), and the American Association of Drilling Engineers (AADE). He earned his M.S. in geology in 2004 from Ball State University and his B.A. in geology from DePauw University in 2000.