More than $500 million of oil and gas severance-tax value (determined by Texas State Comptroller staff) generated for the State of Texas since 1996, offsetting $39.8 million in funding.

More than 40 industry partners and collaborators.

Leading the way in understanding broad geologic controls on production and reservoir quality in unconventional oil and gas reservoirs.
Perhaps no program at the Bureau of Economic Geology better demonstrates the economic value of applied research and industry collaboration than the State of Texas Advanced Oil and Gas Resource Recovery (STARR) program. Founded in 1996, STARR's mission is to conduct geologic research that increases oil and gas production in the state of Texas. Since its inception, STARR helped raise $515.6 million in severance tax revenues, offsetting the program's $39.8 million funding investment.
Employing the latest technologies and the Bureau's multidisciplinary methods, the STARR program develops new approaches to resource recovery. These include (1) use of advanced ion-milling technology to image and characterize micropores in shale gas reservoirs; (2) integrated geologic-characterization studies that employ seismic, core, wireline-log, and petrophysical data to in basins with additional oil and gas potential, at both the field and regional scale; and (3) advanced seismic-mapping techniques to image potential oil and gas reservoirs not currently contacted by existing wellbores.
Program results are disseminated through numerous Bureau publications and articles, as well as in workshops, professional-society meetings, and university classrooms. In its 22-year history, STARR has undertaken more than 70 field (reservoir characterization) and 20 regional studies, with over 60 Texas oil and gas operators participating in the program. STARR field and regional studies in the 2018-2020 biennium span the entire State of Texas (Figures 1 and 2).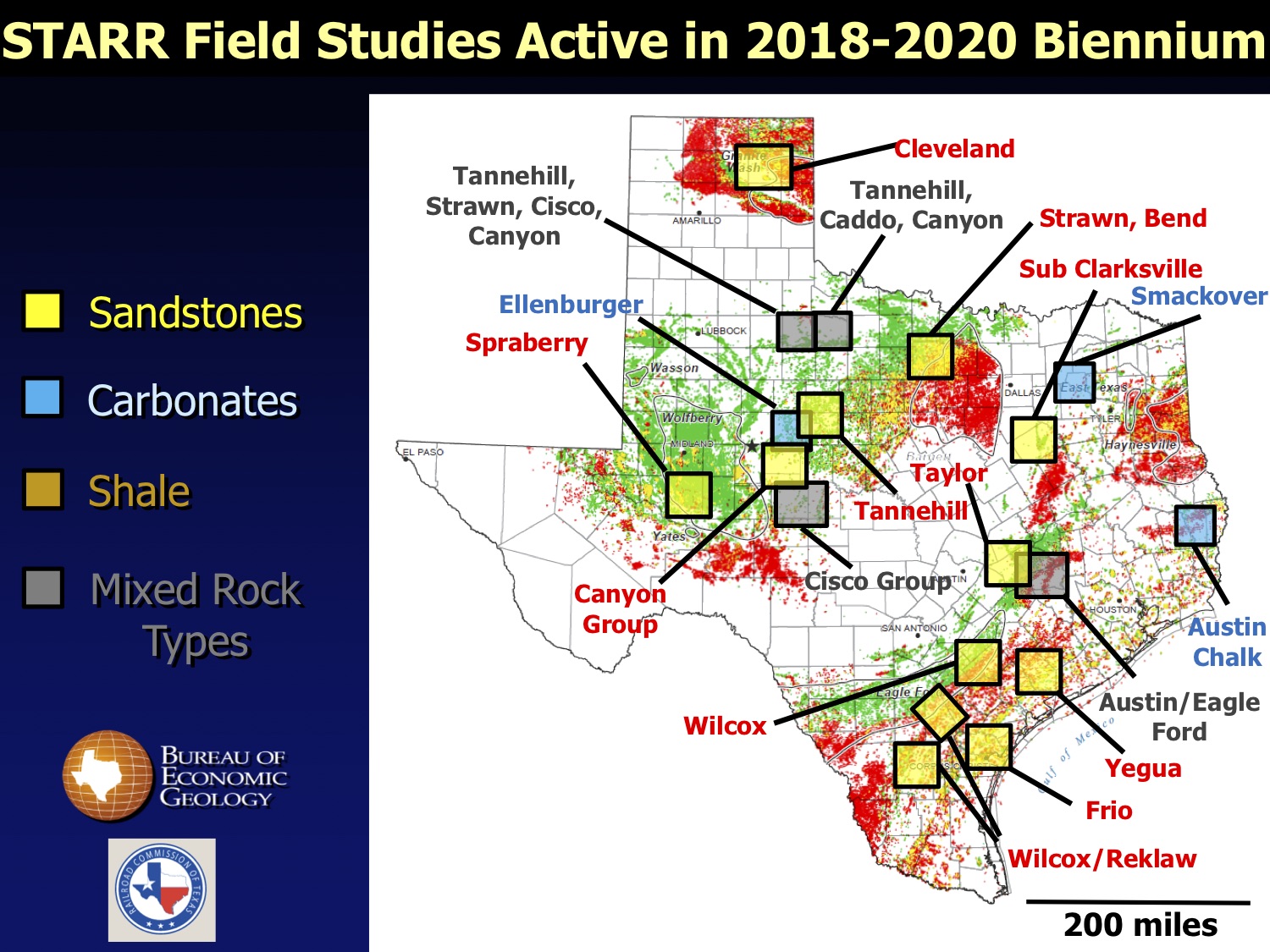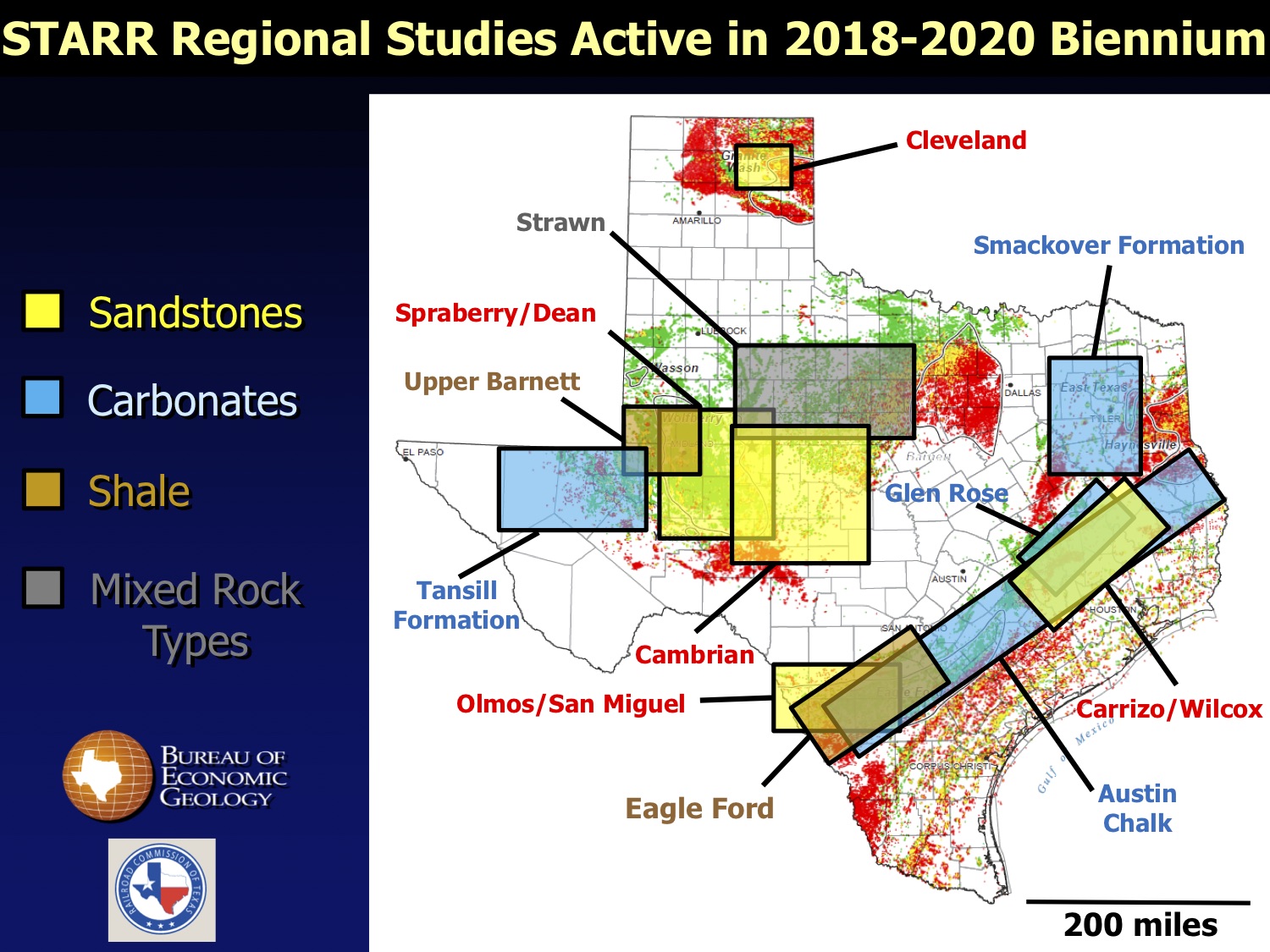 STARR research projects have been instrumental in the discovery and documentation of basic controls on reservoir quality and oil-and-gas production in major types of reservoir systems. For example, STARR's study of East Texas field was the first to fully understand the subsurface distribution of reservoir sandstone bodies in the largest oil field in the Lower 48 states in terms of original oil in place (Figure 3). The study demonstrated that East Texas field still has the potential for hundreds of millions of barrels of additional oil production, which will continue to add value for the State of Texas. In addition, STARR was the first to discover micropores in organic material (Figure 4). This important discovery helped focus and refine exploration and well-completion techniques.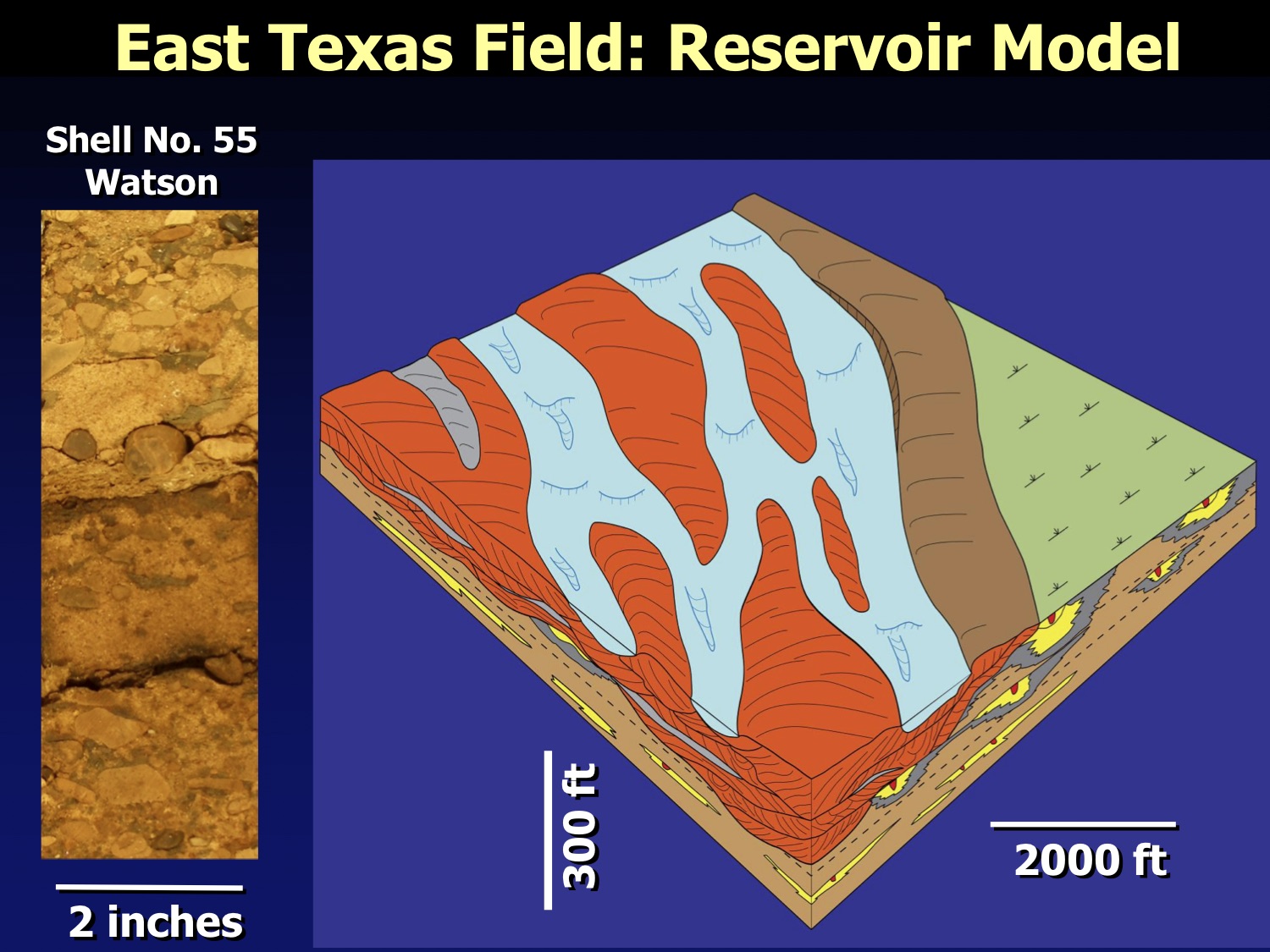 In cooperation with the Bureau's RCRL program, STARR has embarked on a regional study of the Austin Chalk across the entire Texas Gulf Coast. The objective of the study is to characterize major rock types in the Austin Chalk (Figure 5) and their controls on pore distribution, organic-matter type, and brittleness, which in turn affects effectiveness of hydraulic fracturing and productivity.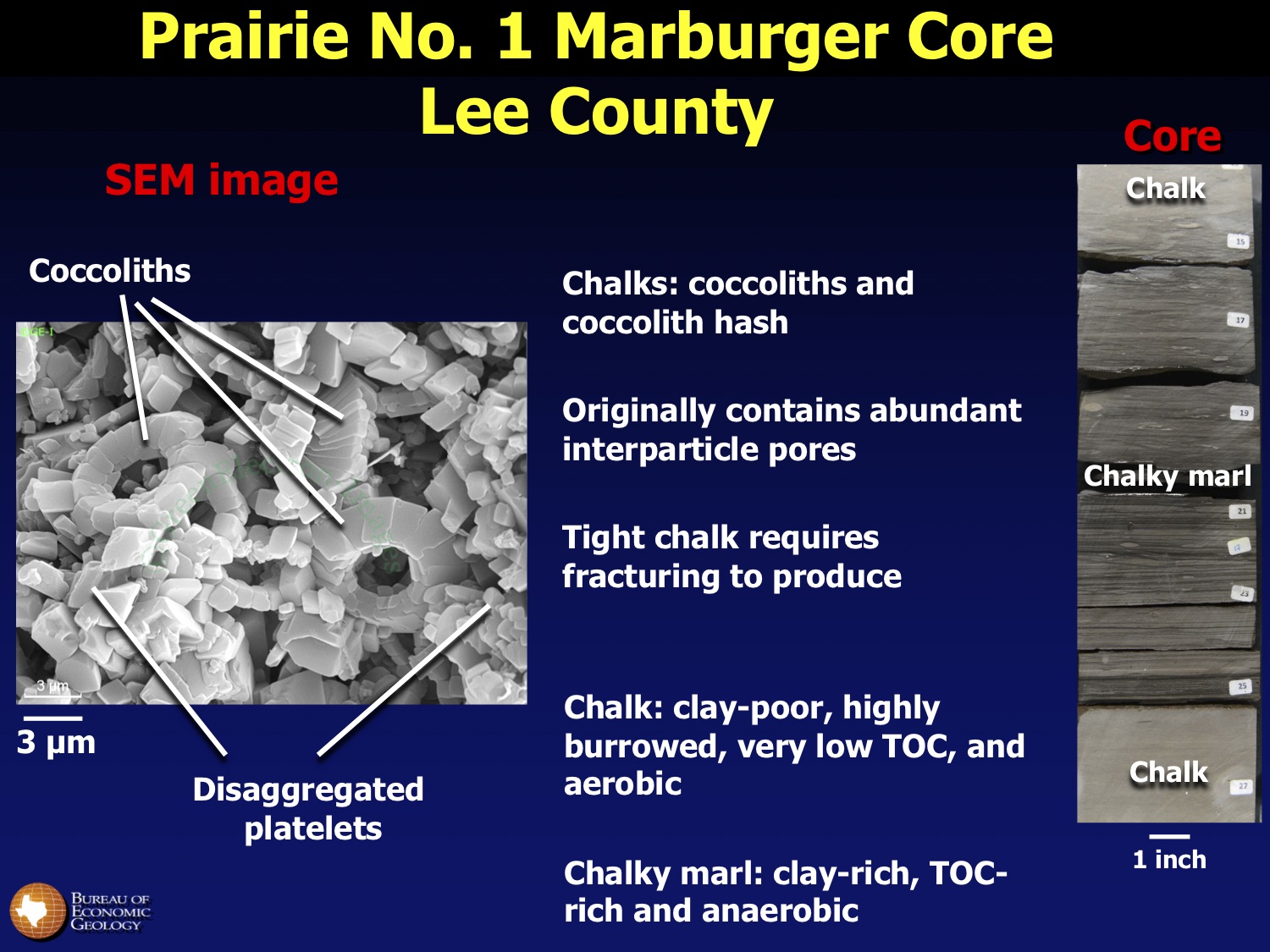 ---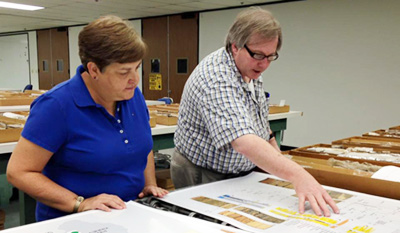 STARR Facts
Name of research program: State of Texas Advanced Oil and Gas Resource Recovery (STARR)
Date of project start: 1996
Term of project: Ongoing, with State of Texas biennial cycle funding

Project PI: William A. Ambrose
Other key personnel: Ian Duncan, Peter Flaig, Qilong Fu, Kelly Hattori, Tucker Hentz, Bob Loucks, Chris Ogiesoba, Iulia Olariu, Rob Reed, Bo Ren, Harold Rogers, David Smith, and Hongliu Zeng
Principal information contact: William A. Ambrose, william.ambrose@beg.utexas.edu

Funding source: The State of Texas Legislature
Geographic areas of study: The State of Texas, including shallow offshore submerged lands along the Texas coastline.
General disciplines of study: sedimentology, sequence stratigraphy, subsurface mapping, core description and analysis, petrography, petrophysics, geophysical interpretation

Selected publications of Interest:
RI 272: Frio Formation in Corpus Christi and Redfish Bay, Texas Gulf Coast
RI 273: Detailed stratigraphic charts of Tertiary reservoirs in the Texas Gulf Coast
RI 274: Integrated study of East Texas field
RI 275: Regional study, Cleveland Formation and Marmaton Group in the Texas Panhandle
RI 277: Regional study, Wolfberry Trend in the Permian Basin
RI 280: Regional study, Tonkawa, Douglas, Cleveland, and Marmaton reservoirs in the Texas Panhandle
RI 282: Regional study, Canyon, Cisco, and Wolfcamp reservoirs in the southern part of the Eastern Shelf, Permian Basin
RI 284: Field Study, Upper Wilcox and Reklaw reservoirs in northern Bee County