"Monitoring Drought in the Cloud: From Archives to Answers"
April 28, 2017 9:00 AM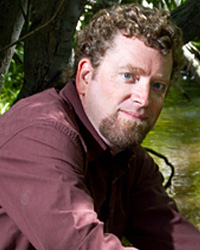 Justin Huntington
Associate Research Professor of Hydrology
Desert Research Institute, Reno
Abstract:
Drought has adverse effects on society through reduced water availability, ecological biodiversity, agricultural production, and increased wildfire and crop-failure risk. Satellite imagery can be used to monitor historical and near real-time drought conditions by visualizing vegetation, snow, water, fire, and thermal indices computed from optical and thermal imagery. Gridded observations of climate and meteorology can also be used and paired with satellite imagery to provide information about the causality and intensity of drought. However, despite the wealth of earth observations, tools to quickly access, compute, and visualize archives, and provide answers at relevant scales for improved decision-making are lacking. The Desert Research Institute and University of Idaho, in partnership with Google, has developed ClimateEngine.org, a web application that uses Google's Earth Engine cloud computing platform to enable users to quickly compute and visualize drought products for improved place-based monitoring and early warning of drought. The application is currently being used by U.S. federal agencies and researchers to develop baseline conditions and impact assessments related to agricultural, ecological, meteorological, and hydrological drought. Internationally, the ClimateEngine.org team is working with the Famine Early Warning Systems Network (FEWS NET) to develop fast and versatile tools that use Earth Engine for monitoring agricultural drought over broad areas at risk of food insecurity. Climate Engine was recently unveiled at the White House Water Summit in March 2016.

About the author:
Justin Huntington is an associate research professor of Hydrology at the Desert Research Institute and Western Regional Climate Center, Reno, Nevada. His research interests are focused on remote sensing, land surface energy balance measurement and modeling, drought monitoring, and integrated hydrologic modeling. He is one of 25 members of the Landsat Science Team, and a member of Nevada Governor Brian Sandoval's Drought commission.